LEDFlex Expands U.K. Operations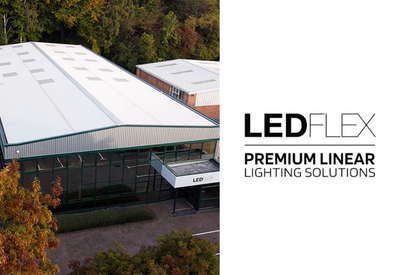 Linear lighting manufacturer LEDFlex Group has added a new production facility to its existing operations in Winchester, Hampshire. The Winchester facility is home to a larger warehouse and four times the office space of the London headquarters, allowing LEDFlex to expand its services and accommodate a larger team of lighting experts. The expansion allows the company to accommodate larger-scale projects with its increased space for production and machinery to automate processes and handle customization. The space also provides enhanced storage space.
Andrew Greenwood, Technical Director at LEDFlex Group, will be leading the operations in Winchester. "I'm very excited to be heading up this new expansion in Hampshire," he said. "I am thrilled to see the company continue to flourish by growing and developing our reputation and presence across the U.K. The larger production facility will ensure that we can fulfill more client needs and meet further customization requests for clients across the globe, far and wide."
The Winchester expansion follows LEDFlex's expansion of its operations in the Middle East in February 2022, with the opening of an experience studio in Dubai. LEDFlex made the investment in its Middle East presence in response to growing interest in its product range across the region.
The new location is Secure House, Unit D Moorside Road, Winchester, Hampshire, SO23 7RX.