Kichler Celebrates 30th Anniversary of Landscape Line With Donation & Incentives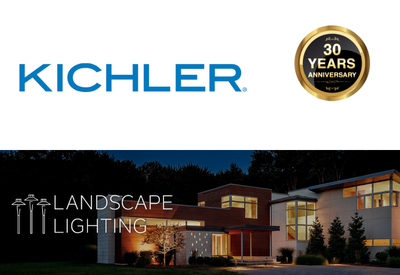 December 20, 2022
Solon, Ohio-based Kichler Lighting LLC, is celebrating a major milestone – 30 years of illuminating outdoor spaces with dynamic landscape lighting – with a community donation plus customer incentives.
Kichler's Director/Landscape Scott Pesta reflects on what makes Kichler unique, "At Kichler, we keep our customer partners at the core of our work. Our landscape lighting team focuses on growing our dealers' and our contractors' businesses in measurable and meaningful ways with value-added services, tools, and support, as well as expansive product offerings that meet or exceed industry standards."
Kichler's landscape portfolio has grown dramatically over the years, and the company is dedicated to creating products and partnerships that last, as evidenced by its long-term customer relationships.
Noted Ed Wojciechowski of Edison Landscape and Deck Lighting LLC, which has been a partner with Kichler's landscape team since the early 1990s, "When I first discovered Kichler's landscape lighting, I was like a bug attracted to the headlights. I installed Kichler products for a project and was amazed — that project started my landscape lighting career with Kichler."
In celebration of its 30-year milestone, Kichler is sharing the occasion with its loyal community of partners, contractors, and customers through:
A Community Partnership with the City of Solon, Ohio (home to Kichler Lighting's new headquarters). Kichler is donating exterior LED lighting fixtures and path lights to Grantwood Golf Course for its clubhouse to support the City of Solon's community revitalization project. Kichler's donation will include path lights, accent fixtures, cylinder wall lights, dual-light spotlights and outdoor wall lanterns. The project has an estimated completion date of Spring 2023.
The Giving Thanks With LightPro™ Rewards Program. Kichler will continue to offer an anniversary promotion to reward landscape contractors for their loyalty while recognizing achievements along the way. Reward points never expire, and once members hit their goal for the calendar year, they earn 3x the points on each dollar spent. Visit Kichler.com/landscape to plan your project and sign up to get rewarded for every project you complete. For more information on the LightPro™ Rewards Program, project support, and case studies, visit the LightPro Rewards landing page.
The Fun in the Sun Rewards Trip. Kichler will host an all-inclusive tropical vacation for eligible LightPro™ Reward members. The trip will take place from January 19 to January 24 for qualifying members and will include airfare, lodging, and transportation for a five-night stay. During the trip, Kichler will announce its Contractor of the Year, Best Design award, and recognize contractor achievements.