Irene Tasi Leaves Top Kichler Post, Exec VP/Sales Steps Up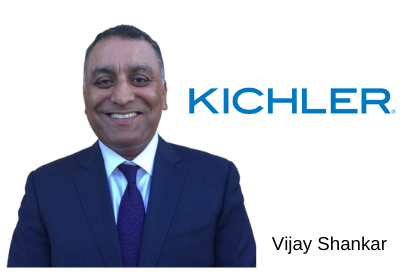 November 18, 2021
For the past three years, 20-year Masco veteran Irene Tasi has been at the helm of Kichler, which was one of the largest privately owned residential lighting companies at the time it was acquired by Masco in 2018. Today comes news that she has left the company (presumably Masco as well as Kichler) to pursue another opportunity.
Effective November 29, Vijay Shankar, Kichler's Executive VP/Sales will serve as President. Shankar joined Kichler in 2019 from a Senior VP/Sales role at ShurTech Brands (now Shurtape Technologies, LLC), where he pioneered the company's ecommerce strategy, expanded category management and customer supply chain collaboration, and drove customer strategies across multiple distribution channels.
"I want to thank Irene for her outstanding leadership of Kichler Lighting and the tremendous impact she has had on the company and our people. I am looking forward to sustaining the growth trajectory she has put into place," Shankar said. "It's an exciting time for Kichler as we introduce a new way to work and continue to deliver innovative lighting designs and solutions to our customers."
During his two years at Kichler, Shankar has focused on profit and loss responsibility across all of the company's distribution channels, addressing such challenges as mitigating tariff impacts, creating focused customer strategies, and streamlining customer data and analytics.
Shankar earned an MBA from Pittsburg State University in Kansas and a Bachelor of Commerce with a concentration in Accounting from Osmania University in Hyderabad, India.