Casambi Partners With Component Distributors in North America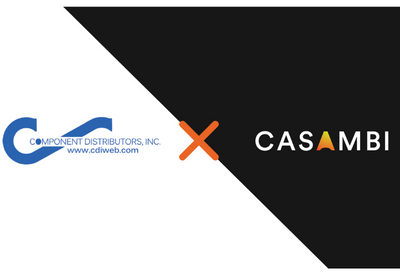 With the goal of establishing a stronger foothold in the North American market, Finland-based smart lighting control company Casambi has announced a strategic distribution alliance with Component Distributors, Inc. (CDI), the Denver-based company serving and distributing products to customers throughout the U.S. and Canada. 
This alliance – which positions CDI as a stocking distributor and engineering services partner – is seen as a move that will significantly expand Casambi's presence and commitment to the North American market.
"We are excited to be part of the Casambi ecosystem, further leveraging our expertise in offering comprehensive smart lighting technologies," says Doug Slansky, President & COO of CDI. "This partnership strengthens our portfolio of state-of-the-art lighting solutions."
CDI brings new capabilities to leading luminaire, driver, LED board, LED lamp and wireless lighting control manufacturers by offering more holistic and complete solutions uniquely tailored to the needs of the lighting industry.
"CDI's reach within the OEM channel – along with Casambi's inventory, other Casambi Ecosystem products, and engineering services – is an important addition to our North American business," added Mark McClear, GM North America at Casambi. "The Casambi Ecosystem in North America grew by a factor of four in 2022 and, with CDI's help and expertise, we expect continued growth in 2023."
In addition to providing the market with faster access to Casambi's products, this alliance extends value further to specifiers with quality service and application support made available throughout every stage.