ArchLIGHT Summit Reports Attendance Growth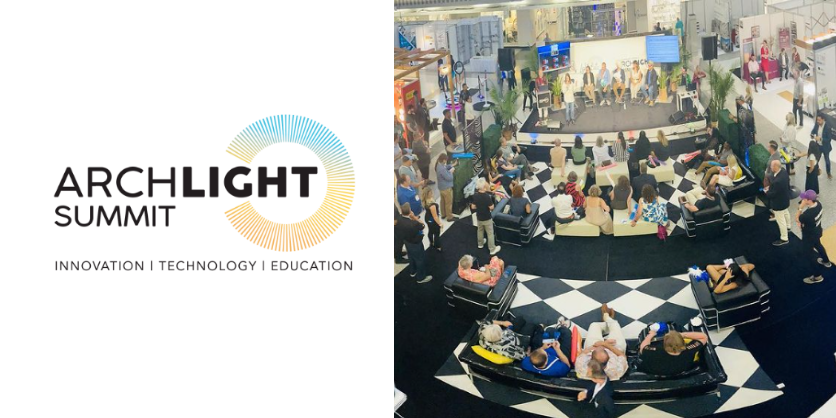 The third annual ArchLIGHT Summit attracted the architectural, specification, and design communities to Dallas Market Center (DMC) for a two-day lighting product expo featuring 60+ exhibitors, CEU sessions, panel discussions, and product showcases. The event, which took place September 19 and 20, saw a 24% increase in attendees over the previous year.
The 2023 ArchLIGHT Summit overlapped with Dallas Design Week and Total Home & Gift Market, all occurring on the DMC campus and creating a dynamic environment of discovery and inspiration. Also taking place simultaneously was the annual convention of The National Association of Innovative Lighting Distributors (NAILD), whose attendees were also able to participate in ArchLIGHT Summit programming, and events.
Hundreds of lighting designers, architects, interior designers, and other professionals attended ArchLIGHT Summit CEUs, which covered both lighting applications as well as topics focused on personal and professional development with informative panels and interactive workshops.
New this year was the introduction of the Light Bites Stage on the show floor, which offered guests shorter, TED Talk-style sessions that are informative and interactive. Popular presentations in this location included "Top 10 Most Surprising Things That Impact Lighting" led by Lisa Reed, making the case for keeping the lighting designer informed of nearly every design decision; and "Light Justice: Everyone Deserves Good Lighting and Beneficial Darkness," presented by Edward Bartholomew and Lya Osborn regarding which elements go into achieving good lighting in underserved communities. Bartholomew and Osborn also led an interactive workshop on the same topic.
The 2023 ArchLIGHT Summit launched its first-ever Luminaire Aware design competition in partnership with the Dallas Section of IES. Modeled after the IES Lighten Up competition, this accelerated version gave teams one hour to create lighting fixtures using provided craft supplies and light sources. Diana Nino of Essential Light Design Studio captained the winning team Luz, which created the Terra sconce with Archit Jain from Oculus Light Studio, Kolleen Bailey from Liteline, and Cinny Zhao from 5G Collaborative Studio. A "Fan Favorite" winner was also crowdsourced among ArchLIGHT Summit attendees, recognizing team Night Glow led by captain Isidro Granados from ME Engineers, who created the Storm Cloud pendant with Rachel Fitzgerald from Stantec, Nancy Chien from 5G Collaborative Studio, and Jan Cargo from Lumiled Solutions.
As part of the opening night Happy Hour sponsored by Casambi, attendees were able to watch Lovers of Light, a popular team game show comprised of some of the industry's leading designers who squared off to debate lighting topics. This event benefited International Association of Lighting Designers (IALD) Education Trust, a not-for-profit charitable educational organization that provides direct support to educators and students for the purpose of promoting the study of architectural lighting design. The winner was Jill Klores from Essential Light Design Studio.
Another unique feature of the show was the AWARE exhibit, continuing an ArchLIGHT Summit tradition of thought-provoking art installations as part of the event. AWARE is an experiential exhibit composed of mixed materials from lighting manufacturers that together serve as a creative advocate for sustainability among the lighting industry. Participants who viewed the installation could also listen to interviews with thought leaders for additional insight. The installation was presented by The Lighting Exchange and Your Lighting Brand.
Student Day at ArchLIGHT Summit included students from TCU, UNT, OU, and Parsons and was livestreamed on both days. Programming included student-oriented versions of an updated TM-30 color rendition demonstration as well as an interactive session on lighting controls with Shoshanna Segal of Hartranft Lighting Design, and a presentation from the IALD Education Trust about the lighting design profession.
ArchLIGHT partnered with Sourcery, a platform that provided attendees with an easy way to "save" the products they found at the show in their own digital libraries and supplied all necessary literature by scanning a QR code. Sourcery also had daily giveaways that rewarded engagement with the platform; winners were Jessica Brazil from UL Solutions and Matt Fracassini from The Lighting Practice.
 Exhibitor Registration is open for next year's ArchLIGHT Summit, September 17-18, 2024. To reserve booth space, click here
The Call for Speakers will open later this year and Attendee Registration will open in Spring 2024. To stay abreast of the latest developments, follow ArchLIGHT Summit on Facebook, Twitter, Instagram, Threads and LinkedIn.
Other lighting events at Dallas Market Center include the twice-annual Lightovation, the largest trade event in North America for residential lighting. The next edition of Lightovation is January 10-14, 2024. Sign up for complimentary registration
Related articles
ArchLIGHT Summit to Feature AWARE Art Installation 
Lighting Game Show at ArchLIGHT Summit Will Benefit IALD Education Trust