Annual ArchLIGHT Summit Debuts in Dallas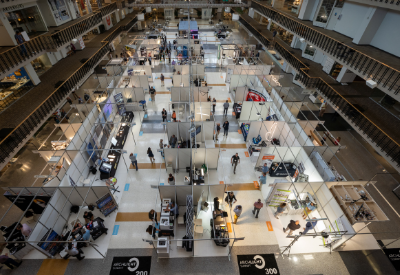 The first in-person commercial lighting event in nearly two years was held at the Dallas Market Center (DMC), September 21-22. ArchLIGHT Summit – a new lighting trade event and educational platform for the architectural, specification, and design communities – welcomed hundreds of lighting designers, architects, interior designers, specifiers, and students to review new products, network, and attend a wide range of seminars. The next edition of the annual show will take place September 15-16, 2022.
ArchLIGHT Summit followed CDC guidelines for health and safety, building on DMC's 18-month track record of hosting safe and productive events for a variety of industries. The two-day event involved the participation of 60 lighting brands as well as more than 40 educational sessions, along with networking events.
Cindy Morris, President & CEO of DMC, thanked the market center's exhibitor partners and stakeholders in the commercial and architectural community "for believing in what we have created: a forward-looking event that unites products, people, and purpose. We look forward to the 2022 edition."
The expo portion of ArchLIGHT Summit on the first floor of the Trade Mart featured 60+ exhibitors representing all facets of the commercial lighting spectrum including Hubbell, Energy Focus, Pure Edge Lighting, Targetti, Impact Lighting, DMF Lighting, Focal Point, Intra-Lighting and Casambi.
Targetti's CEO Marie Paris observes, "I thought the show was successful. It was nice to be back in person with clients after a long period. The show was well-organized and poised to grow in the future, we look forward to participating again next year."
Peter Augusta, VP/Sales at Casambi, who also served as a speaker, "The ArchLIGHT Summit was a great success for Casambi with over 100 visitors who stopped by our booth and two well-attended breakout sessions. It can only get better and we are looking forward to participating next year."
Several exhibitors with permanent showrooms in the DMC had a presence on the show floor: Accord Lighting, CSL, Eurofase, Hinkley, Hubbardton Forge, Legrand, Minka Group, Modern Forms, Satco Products, Sonneman – A Way of Light, and WAC Lighting.
Andrew Knapp, VP/Sales for Hubbardton Forge, comments, "We appreciated the opportunity to host two CEUs in our new showroom. Having this opportunity allowed us to explain our product and manufacturing capabilities which is done out of Vermont. It also broadened our reach with new customers to stay connected on current and future projects."
ArchLIGHT Summit's official agency partners Hossley Lighting and Power Solutions, and NexGen Lighting Solutions presented "neighborhoods" on the show floor of dozens of brands from their line cards.
Seminars and panel discussions updated attendees on evolving lighting solutions and addressed personal development, business optimization, and opportunities to explore diversity and inclusion within design-build disciplines. Unique hands-on demonstrations and other interactive platforms also engaged participants in new ways. Highlights included a Women in Lighting + Design (WILD) Welcome Party and Networking Breakfast, as well as sessions on topics including sustainability, diversity and inclusion, queer perspectives, and a particularly innovative session on color rendition.
Tony Esposito, speaker and founder of Lighting Research Solutions, adds, "Presenting at the ArchLIGHT summit was a real pleasure. The Dallas Market Center was impressive and the staff were kind, professional, responsive, and helpful! They constructed the most beautiful color rendering (TM-30) demo I have ever seen, and I am grateful to have been part of it. Their production quality is top-notch."
ArchLIGHT Summit kicked off with a Welcome Party on September 20 hosted by WILD on the top of DMC's World Trade Center building, offering spectacular views of the Dallas skyline at sunset.
An opening party the following night provided the opportunity to explore participating permanent exhibitor showrooms while enjoying food, specialty cocktails, and DJ entertainment. This event was themed DNA Discovery, playing off of the popular Design DNA light art installation that attracted attendees next to the Expo floor. The immersive experience, designed by Light Collective out of the United Kingdom, incorporated the modular LIGEO LED lighting system, which made its North American debut at ArchLIGHT Summit. Each participant received a unique display of lights based on their professional profile, driven by a database created by The Lighting Exchange, who programmed an Acuity Brands Fresco controller to represent this information in illumination.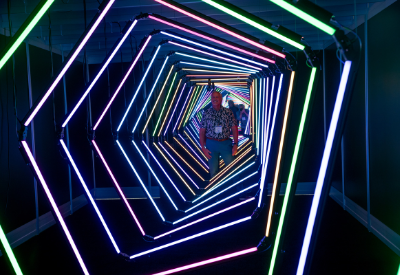 Participants who are curious as to how their professional data stacks up compared to others can still get that information without the light show here. Learn more about the entire international Design DNA initiative here.
ArchLIGHT Summit was co-located with Dallas Design Week, September 20-23, providing additional CEU and networking opportunities for attendees of both events.
ArchLIGHT Summit organizers worked closely with an Advisory Board of distinguished industry leaders, who provide valuable perspectives for shaping this groundbreaking event and its educational programming. Members include Francesca Bastianini, IES, principal of Sighte Studio; Craig A. Bernecker, Ph.D., founder of The Lighting Education Institute; Andrea Hartranft, FIALD, principal of Hartranft Lighting Design; Alyssa Humphries Stewart, director of the Center for Lighting Education at Texas Christian University; Alriah Hunt, specification sales rep at Architectural Lighting Alliance; Archit Jain, IALD, LEED SP, ISLA, principal of Oculus Light Studio; Kelly Roberts, LEED BD+C, IES, studio director of Wald Studio; and Laura McDonald Stewart, FASID, RID, LEED AP, WELL AP, founder and owner of Laura McDonald Enterprises and PLiNTH & CHiNTZ.
Association partners included American Lighting Association, Lighting Controls Association, National Lighting Bureau, North American Coalition of Lighting Industry Queers, and national and local chapters of Women in Lighting + Design.
For more information, visit www.ArchLIGHTSummit.com, with 2022 exhibitor registration available now and to sign up to receive information and announcements. Follow ArchLIGHT Summit on Facebook, Twitter, Instagram and LinkedIn for the latest developments and information on exhibitor and attendee registration.