Lighting Plays Critical Role at Special Needs School
November 7, 2022
Helping students achieve success and reduce disruptive behavior is critical for schools. Building designs, particularly those focused on serving special needs students, must take into account sensory challenges and environmental impacts on behavior and learning. Adding to that challenge: making sure structures and public spaces can be accessed by all has become increasingly sophisticated. One of the keys to success – for both new construction and renovation – depends on the designers' understanding of how students' unique cognitive and physical disabilities increases their achievements and engagement in that space.
How It Began
To help their profoundly developmentally delayed children, Menachem and Devorah Leifer founded the Donald Berman Yaldei Developmental Center (Yaldei) in 1998 in Boisbriand, Quebec. The Center started out in their modest home with only three children and three staff members. Thanks to intensive early intervention treatment, the children began to make miraculous progress. Word of mouth about the school's unique approach led to phenomenal growth and expansions over the years into numerous facilities, each larger than the previous.
In 2016, the school purchased a 1960s-era building for the students, which had grown to 370. This three-story building would allow the kids to be in one facility all day for therapy and school. The separate therapy rooms would be located on the second floor – the Yaldei Therapy & Early Intervention Center, classrooms, and administrative offices for the Yaldei School would be on the first floor, and additional classrooms would be on the third floor. However, extensive renovations were needed to accommodate the students' special needs and in 2017, after a broad search and numerous presentations by architecture firms, the school's executive board retained Stendel + Reich Architecture Inc. to bring the plan to fruition.
Color & Light Aid Navigation
The design goal for the entire facility was to create a space that would reduce children's anxiety and make the experience fun. To help achieve this, Cliff Stendel, associate principal at Stendel + Reich, a firm with 50 architects and designers, studied extensively about the school students' different disabilities before developing the initial plans. He also drew on his previous experience designing Alzheimer's facilities. For example, when [Alzheimer's] patients come to the end of a corridor, their tendency is to remaining walking straight, without realizing they need to turn. This also holds true for many Yaldei students. Understanding this concept led Stendel to create oval corridors where, if students turn the wrong way, they just follow it around to where they started.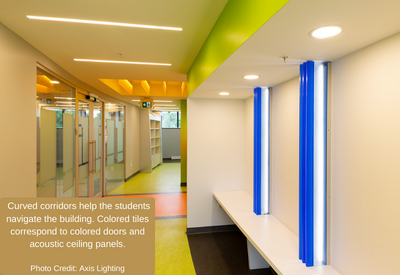 Using color that correlates to each room is another key design factor that helps students navigate. While many can't read, they are able to identify colors. For instance, the blue floor tile corresponds with the blue classroom door. The blue theme is also carried through with suspended blue acoustic ceiling panels overhead.
After observing students in the therapy rooms, Stendel realized the children were easily distracted by looking out the windows. To reduce that temptation without eliminating natural light, he substituted a glass wall between the classroom and the corridor. It is the far side of the corridor that now has windows letting in natural light. Since the children can't see directly outside, they are less prone to distractions by airplanes, clouds, or rain, for example.
Other Lighting Challenges
Lighting was especially important when addressing the unique issues that special needs children face.
Since the school serves students with many different special needs and developmental issues, Stendel's design had to address these simultaneously, but without conflicting between each. For example, he needed to consider if a design would work for children who are hypo-sensitive, while also taking into account hyper-sensitive students. The renovation's lighting necessitated focusing on both to prevent those who are too sensitive to bright lights from being adversely affected and distracted by them while also providing enough illumination to children who need more light. Additionally, for some children on the autism spectrum, lighting can be a source of distraction and cause severe anxiety. Stendel had to find luminaires that didn't have significant intensity or glare, but still provide the necessary illumination.
Montreal-based manufacturer Axis Lighting has had a relationship with Yaldei School for many years. When the company learned about the purchase of the new building and the necessary renovations, they immediately stepped up and offered luminaires. The company's commitment to contributing to the community aligns with the school's mission of "helping to transform the lives of the people who need us the most, facilitating the process of discovering, and revealing the greatest untapped potential of each child with disabilities."
"Axis has a long history of philanthropic initiatives, and we are honored to help Yaldei School. It is truly heartwarming to know the tremendous impact this school has on children with special needs and their families," commented Howard Yaphe, CEO of Axis Lighting.
Axis' wide range of products provided Stendel the opportunity to select luminaires that complement the unique design and accommodate the complex ceiling plan. He worked closely with Axis and selected 152 lights for Phase 1 and Phase 2 of the renovation, which includes Pixel recessed downlights with MikroLite optics installed over each classroom door and that deliver superior visual comfort and color mixing with its optical system.
In addition, Stendel selected from Axis' linear luminaire collection, including: Edge 2, an innovative linear ambient LED lighting tool with a two-sided lens that produces people-friendly vertical illumination, sending more light to the eye and improving facial recognition; Beam 3, designed to provide broad versatility by creating a balance between aesthetics, visual pleasure, and lighting performance; Beam 2 square, a compact linear pendant form with SurroundLite® technology that provides generous spacing and exceptional uniformity resulting in significant energy cost savings since fewer luminaires are required to illuminate a room; and Sculpt linear and pattern. Additionally, Sketch's semi-circular shape mimics the curve of the circular entrance ramp, delivering comfortable and efficient illumination.
Stendel specifically didn't want to use typical 2×4 ceiling box in the classrooms, so he selected skinny strips in various shapes. He wanted to ensure that a hyper-sensory child who might be bothered by light would find these fun and less institutional.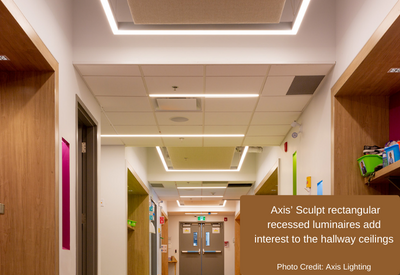 Making the Grade
"Considering the design objectives, Axis luminaires helped create a good balance of not over- or under-lighting the rooms. The lighting also played an important role in helping keep the facility's atmosphere fun for the students," Stendel said.
Therapists have commented on the advantages that RGB lights installed in some rooms provide in aiding children's therapy. For example, if kids are getting distracted while looking outside, the color of the lights can be changed, which redirects students.
The design's consistent use of details, colors, and themes helps reduce children's anxiety and agitation, which can lead to aggression. Adhering to this same principle, the lighting's shapes and angles are the same throughout the building, providing familiarity and comfort to the children.
Along with the architectural elements and interior design, the lights enhance the spaces and create a nurturing, playful environment for the students.

"Axis was extremely sensitive to the unique needs of this project and we are extremely grateful for their donation and ongoing support," added Menahem Leifer, CEO of Yaldei.
The final phase of the school's construction began this past summer. For continuity and to support the students' needs, the design for the third floor classrooms is the same as the other two floors and will include donated luminaires from Axis Lighting.