AEL Streetlights Selected for Philadelphia Streetlight Improvement Project
September 20, 2023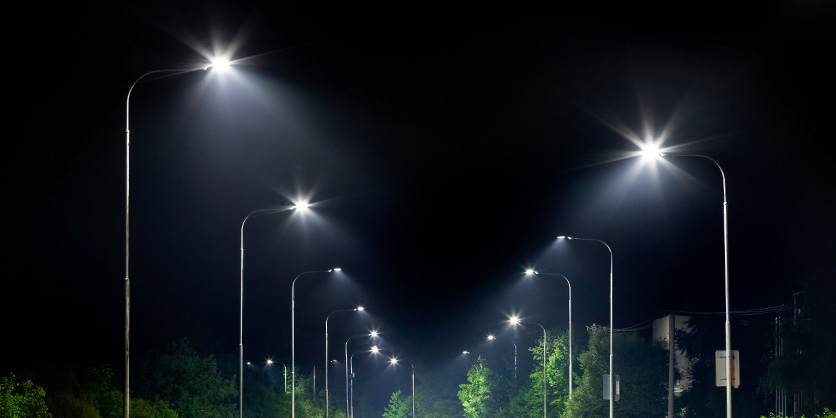 Two-year, citywide program will convert 130,000 high-pressure sodium streetlights into a network of more efficient, longer-lasting LED lights.
Acuity Brands, Inc. recently announced that the Philadelphia Energy Authority (PEA) has selected American Electric Lighting (AEL) as a major supplier for its Philadelphia Streetlight Improvement Project (PSIP). The citywide project will replace and connect approximately 130,000 streetlights into a network of more efficient, longer-lasting, remotely controlled LED lights. The selection of AEL products was the result of a detailed procurement process managed by Ameresco, a clean energy partner selected by the PEA to implement this comprehensive energy efficiency solution and infrastructure upgrade across the entire project. AEL will be supplying approximately 100,000 new cobra-style and residential post-top LED streetlights for the PSIP.
According to the PEA, the 24-month construction project will reduce streetlighting energy use by more than 50 percent and is expected to reduce municipal carbon emissions by more than 9 percent. The $91.2MM citywide improvement project is anticipated to ultimately be cost neutral over the 20-year financing period, due to energy savings, avoided operations and maintenance costs, and utility rebates.
A majority of the project's streetlights from AEL will be its new AutoConnect™ LED luminaires, which combine visually comfortable performance with a wide assortment of embedded and field-installed lighting controls and sensor technologies. These work together to improve energy savings, provide enhanced operations and diagnostics, and simplify asset management.
"Our AutoConnect streetlights are equipped with intelligent DALI® D4i™ drivers, which will communicate directly to a third-party secure network that can remotely control the lights," said Robert Petro, Director of Infrastructure Sales, Acuity Brands Lighting and Lighting Controls. "This level of connectivity will enable the City to receive instantaneous updates on outages and to have the ability to dim and brighten fixtures. In addition, the DALI compliant drivers will easily allow for future deployment of service and capability upgrades and add-on accessories as needed."

"We are so pleased to be working with the PEA and Ameresco on this significant project to bring high quality lighting and energy saving solutions throughout the City of Philadelphia," said Petro. "It is an honor to contribute to the City's overall plan to support public safety by improving the ability for pedestrians, bicyclists, and motorists to see at night, as well as help reduce municipal carbon emissions."

Robert Petro,
Director of Infrastructure Sales,
Acuity Brands Lighting and Lighting Controls
"We are honored to work with the City of Philadelphia and the Philadelphia Energy Authority on this landmark installation that will have positive impacts on Philadelphia residents," said Peter Christakis, Executive Vice President and General Manager Northeast Region at Ameresco. "As the clean energy partner, it is a joy to collaborate on smart city solutions that will not only modernize Philadelphia's lighting infrastructure but also generate substantial cost savings and enhance streetscape visibility. The future is bright, thanks to the visionary leaders at the City and PEA, who drive progress and innovation."

Peter Christakis,
Executive Vice President and General Manager
Northeast Region at Ameresco
"The City of Philadelphia has demonstrated great leadership and vision by making a historic and thoughtful investment in state-of-the-art streetlighting that aligns with their public safety, social equity, and environmental goals," said Troy Harms, Vice President of Infrastructure Sales, Acuity Brands Lighting and Lighting Controls. "This next generation streetlighting system will greatly improve the City's current infrastructure while providing a future ready platform for other innovative technologies. Bravo Philadelphia!"

Troy Harms,
Vice President of Infrastructure Sales,
Acuity Brands Lighting and Lighting Controls
More information available here