Color Accuracy Critical in TileBar Showroom's Success

October 14, 2021
One of the most critical elements when selecting tile for a residential or commercial client is color accuracy. When TileBar – a direct importer of mosaics, tile, and natural stone – was establishing its flagship showroom in New York City's iconic Flatiron District, specifying a lighting system that would provide true color rendering without glare on the highly reflective tile surfaces was paramount.
Totaling 9,500 square feet over two floors, the new showroom enhances the company's e-commerce website with a stellar in-person shopping experience. Montreal, Quebec-based VEROZZA Lighting was selected to work with Input Creative Studio to design the impressive space.
According to the project's design lead Yiannos Vrousgos, co-founder of the Manhattan-based architectural design firm Input Creative Studio, the main goal was to maintain an intimate space throughout so customers could come together to talk tile and collaborate with designers for inspiration.
The client requested a high-performing CRI fixture with minimal glare to maintain accurate color temperature. "Having the right specificity of color in a space like this can be an impossible task because of how reflective tile can be," Vrousgos explained. "The showroom needed the perfect fixtures to spotlight the products and blend [in] seamlessly."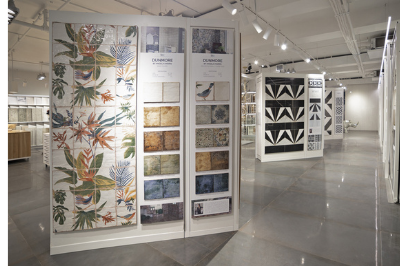 The solution was to install PURE Track Light, a projector with a Minimalist and classic design that allows for flexible rotation, throughout the showroom. "Instead of being visual noise, the VEROZZA fixtures enhanced our design," Vrousgos said. With its all-white, cast-aluminum body, the PURE Track Light features an anti-glare ring that allows for better optical performance, which helped remove glare challenges in the design.
Both the client and Input Creative Studio were thrilled with how the TileBar New York City flagship showroom turned out. VEROZZA is the North American partner of NEKO Lighting, headquartered in Switzerland.