ArchLIGHT Summit Announces Hospitality Events & Attractions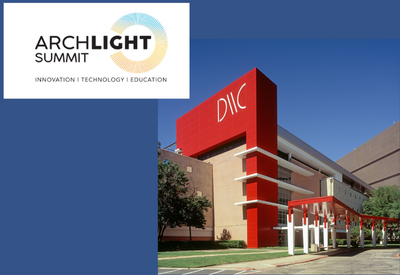 The Dallas Market Center (DMC) has announced the line-up of hospitality events and special attractions for the second annual ArchLIGHT Summit, which draws the architectural, specification and design communities to the Dallas Trade Mart for a product expo and 20+ CEU opportunities, September 15-16, 2022.
A featured visual experience for this year's event is Color Wheels, a light art installation designed by international lighting designers Alessandra Stratimirovic and Athanasssios Danilof. The Darc Award-winning project generates numerous unexpected chromatic effects that offer insights into the sensory and perceptive aspects of both light and color. Inspired by a long history of artists, scientists, and scholars to organize color and understand its essence, the work includes three luminous wheels utilizing Targetti's DURATAPE RGBW strip product by DURALAMP. It will be on display throughout the ArchLIGHT Summit on the first floor of the Trade Mart.
"Building on the popularity of the Design DNA installation that was commissioned for the first ArchLIGHT Summit last year, Color Wheels should be similarly inspiring and photogenic for this year's attendees," says Laura Van Zeyl, VP/Audience Development, Lighting for DMC. "The presence of immersive illuminated art elevates this event beyond a typical trade show experience."
Another attraction for the 2022 ArchLIGHT Summit is a Relaxation Station sponsored by Sonneman – A Way of Light. This lounge will be conveniently located in Sonneman's 8,000-sq.-ft. permanent showroom upstairs on the fourth floor of the Trade Mart (space #4804) near all three rooms that will be running AIA-accredited seminars, panel discussions, and interactive demonstrations. All attendees are welcome to relax and enjoy refreshments between sessions throughout both days of the show. Sonneman is one of 150 permanent lighting exhibitors encompassing the largest residential lighting show in North America, Lightovation, occurring each January and June at DMC, with the next edition taking place January 10-13, 2023.
Two evening hospitality events will give all ArchLIGHT Summit participants the opportunity to network, including a pre-show Welcome Party on Wednesday, September 14 hosted by Women in Lighting + Design (WILD). Back by popular demand, this event will take place 6pm to 9pm in the D15trict Lounge on the 15th floor of the DMC, offering spectacular views of the downtown Dallas skyline at sunset while guests enjoy cocktails/mocktails and light bites.
The American Association of Independent Lighting Agents (AAILA) will host ArchLIGHT Summit's opening night Happy Hour on Thursday, September 15, 5pm to 7pm on the first floor of the Trade Mart. All ArchLIGHT participants are welcome to experience the entertainment, food, drink, prizes and even a few surprises.
Lunch will be served on the ArchLIGHT Summit expo show floor, 12pm to 2pm on Thursday, September 15, allowing attendees to maximize their time. DMC's famous eTuk will also be serving a snack of savory street tacos on Friday, September 16, 12pm to 1pm, on the Trade Mart first floor near ArchLIGHT Summit exhibits.
Creating additional excitement on the show floor, the popular Get a Grip on Lighting podcast will broadcast live from the ArchLIGHT Summit throughout the day on Thursday, September 15. Episodes will include interviews with ArchLIGHT Summit presenters by hosts Mike Colligan and Greg Ehrich, as well as a special edition commemorating the launch of PureEdge Lighting's new PureSmart line.
Download the official ArchLIGHT Summit app, sponsored by Casambi, in the App Store or Google Play for a full schedule of events, educational seminars, and exhibits.
Registration for ArchLIGHT Summit exhibits, hospitality events, and attractions is free, while a flat advance fee of $50 ($75 onsite) allows access to more than 20 CEU opportunities throughout the event. Both registration options are open here
ArchLIGHT Summit's hotel blocks are closing soon on August 29, including a special $169/night at the Renaissance Dallas, within walking distance of Dallas Market Center. Book hotel here
Additional sponsors of the 2022 ArchLIGHT Summit include Tivoli; Aluz; Hossley Lighting & Power Solutions; NexGen Lighting Solutions; Preferred Lighting Group; Moonlight USA Inc.; Acolyte; Acrosentec; LTF Technology; and Lumenwerx.
For more information, visit www.ArchLIGHTSummit.com and follow ArchLIGHT Summit on Facebook, Twitter, Instagram and LinkedIn for the latest developments.