Synapse Wireless: Connectivity in a Snap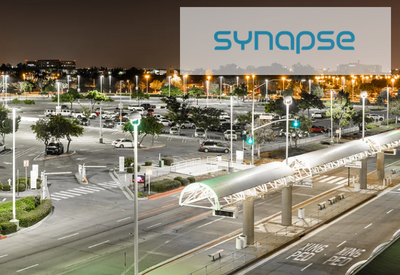 October 11, 2022
In Disney's 2010 movie Tron: Legacy, one of the "stars" was not an actor at all, but a wireless control system that handled the lighting effects for the costumes, which were embedded with LED. The same way that Synapse Wireless' network operating system performed flawlessly on a Hollywood movie set 10+ years ago is exactly why the product continues to be successful today — users find it to be an incredibly reliable, easy to operate, high quality system.
Perhaps not surprisingly, the company's beginnings are rooted in tech. "In the early days before IoT became a buzzword, we developed a wireless mesh technology that could be applied to any number of different industries," explained Jamie Britnell, Director/Product Marketing at Synapse Wireless, Inc.
The company was founded in 2007 as an electronics technology provider for companies far from the lighting industry. "One of our projects was to monitor the gait of cattle," Britnell said. "Imagine cattle in a field wearing wireless nodes on their bodies and by the cattle's movement and their gait, you can determine certain things about their health and state of milk production." Another customer, this time in the agriculture industry, has Synapse devices in their fields where they can monitor the amount and type of insects and use Synapse's wireless technology to transmit that data to a centralized hub.
"What that work did for us early on was make our mesh technology very robust and super-reliable," Britnell stated. After other customers expressed an interest in creating lighting controls, Synapse explored the opportunities. "We ended up building our own wireless lighting controls solution and found that our technology lent itself really well to building our own lighting controls application; that's how SimplySnap was born. (Today Synapse Wireless is a privately held company that is part of the McWane family of manufacturing companies out of Birmingham, Alabama.)
Entering the Lighting Industry
When it comes to lighting, Synapse concentrates on three areas: Outdoor/Site Lighting (parking lots, parking garages, parks); Indoor Industrial (manufacturing facilities and warehouses); and Sports Lighting (ballfields, tennis courts, and arenas).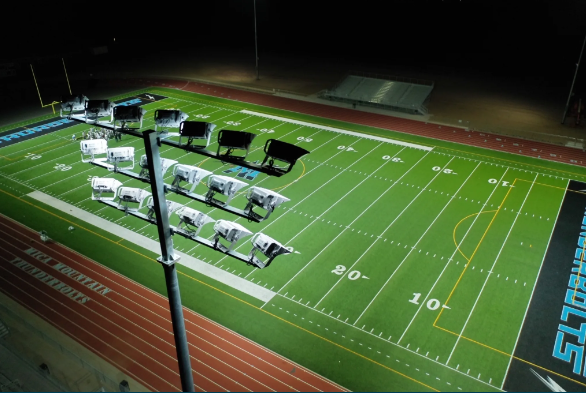 "We originally were going the OEM route, finding lighting fixture manufacturers who play in those markets and partner with them to give them the ability to add controls to their product line," Britnell recounted. "They go out and work with lighting specifiers or lighting agents, or whoever their sales channel might be, and get their products into those areas and we support them. Recently, over the past year or so, we've expanded our go-to-market strategy and started working with lighting agents and manufacturer reps directly. We have this two-pronged approach where we work with fixture manufacturers, helping them deliver controls to their products, but we also work directly in the channel to promote our products and services to those lighting agents, specifiers, and distributors who are working those projects as they come up from time to time."
Synapse has partnered with many well-known lighting manufacturers – such as Ephesus Lighting, Cooper, Cree, and LSI — providing either private label or controls under the Synapse Wireless name. The roster of customers spans Tier 1 level providers all the way down to smaller OEMs who are looking for a project here or there and need a particular controls solution. "We try to be easy to work with. That may sound cliché, but it is one of those things we try to design our support and our product around," he said.
What differentiates Synapse?
"From an OEM standpoint, there are a handful of big names out there that know us. The specifiers and the lighting agents have us on their line cards already and we have the history of a lot of applications where we've been deployed and had success," Britnell stated.
The basic groundwork has already been done — Synapse meets all requirements from ASHRAE, Title 24, and DLC, plus already has been embedded in a number of fixtures by lighting manufacturers.
The beauty of the Synapse system is its simplicity. "If you're a specifier going after a job, you might have the parking lot lights and the parking garage lights, or you may have the wall packs or the site lighting," Britnell explained, adding, "You can have any number of manufacturers out there and still have a single control system — and that control system could be embedded into any number of those fixtures. In other words, you can have different manufacturers on site, but a single control system that covers both the outdoor and indoors," he commented. "Let's say you're doing a campus environment and you're doing the arena, the ballfield, the parking lot, the wall packs, and the bollards; you can have a single control system that controls all of those. In the past, I think a lot of folks had to piecemeal that together. They'd have one solution for the arena and a different solution, or maybe just timers or photocells for the outdoor. With Synapse, they can put all that together into a single solution."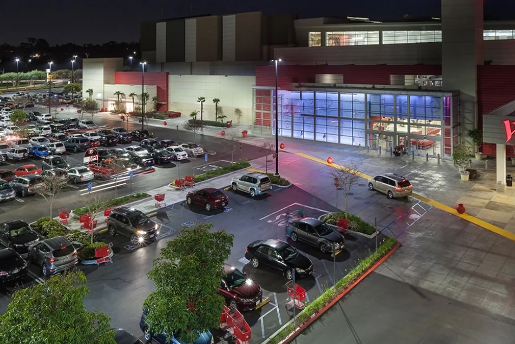 Another differentiator is the system's flexibility. "We are able to hit not just the small, single site projects – like a small parking lot or a park – but because of the history we have in terms of wireless networking and mesh networking, we're going to be able to go from that small site up to very, very large sites. In terms of scalability and having a robust performance and mesh network, those are the things that really set us apart," Britnell stated.
"When I have this conversation with large enterprise end-user customers or some of our channel partners like lighting agents, distributors, or even OEMs, I circle back to 3 things. First, our product works. When we first got into the lighting controls business in 2014/2015, what we heard was 'lighting controls stink.' We'd hear they don't work, there are always problems, and they could never sign the job off, etc. We wanted to change that," Britnell explained. "We set out to make sure our product just worked. It's a simple thing and it's crazy to think it's a differentiator, but that's not our words, that's what customers have told us. They say our stuff just works. Whether it's the electrician putting it in or the lighting agent who's selling it, they say they don't have to worry about having to go back and go back and go back to try and solve a problem with the control system. The second thing is that our product is easy to use. I know everyone thinks their product is easy to use, but we were very intentional. When we kicked off SimplySnap, we had usability engineers on staff who would do usability tests with customers. We would design part of a user interface, we'd sit real customers down, we'd go to their location, fly engineers out, and sit them down in front of SimplySnap and have them go through the software." Synapse went the extra step of recording the process to see where things became complicated, or where there was confusion, and fixed those problems. "Whether it's our user interface or our commissioning services, or even our sales material, we try to make working with Synapse super-easy," he affirmed.
"The third side of it is our support piece. We focus on two areas with support. We had heard that commissioning in general could be a nightmare. Commissioning was always the thing that people would say they either couldn't get signed off on or it would take 6 to 8 weeks to get the commissioning folks in," Brittnell said. "We developed a technology within SimplySnap to make commissioning easier, whether it's the electrician doing it or whether we're doing it remotely for large customers. Then there's the post-sales support. We try to spend a lot of time, effort, and money on our support team to make sure we're providing our OEM partners – as well as our channel partners – with great support after the sale."
Overcoming Challenges
Despite all the progress in technology made, the lighting controls space still faces the problem of slow acceptance. "When we talk about lighting controls adoption, there are numerous headwinds that you hear about in the channel. Things like, there's no ROI for it, or it costs too much, or they never work. Those are the things driving some of the reluctance," Britnell stated. "I don't dismiss any of those, that's the reality for a lot of folks in the channel. But as more and more regions of the country start adopting some of these new energy codes, that's going to drive the need to put controls in there. How can we make the system transparent and as easy to use as possible so that there's no reluctance from the electrician who has to go in and connect it and set it up, or so we don't have to allocate thousands of dollars to commissioning it, because those things just drive the entire cost of the project up; that's what we're trying to reduce with SimplySnap. Our commissioning these days has been predominantly done remotely, and that lowers the cost of installing and commissioning the system."
Hitting the Sweet Spot
"A campus environment like a community college or a large high school, where they're doing a new gymnasium or new fields is an ideal fit for us. And because we work both indoors and outdoors, extending that same control system that's managing the arena, the tennis courts, and the ball field can now also manage the parking garage, the parking lots, or even the site lighting as people are walking in and out of the facility," Britnell noted.
The second installation scenario where Synapse excels is the large, indoor industrial site where there could be thousands of lights within a million-square-foot facility. "What we've learned from working with manufacturing partners is that from a controls standpoint, those locations are really hard. The typical solution is to either have no controls at all or a wired solution," Britnell said. "SimplySnap is ideally designed and has the technology behind it to support those large locations."
Britnell cited a recent example of a project with 4,000 lights in one facility. "The requirement we had from them early on was that they want to go in, hit a button, and all the lights go on or dim at the same time," he explained. "And for a 4,000-light facility wirelessly, I don't know anyone else out there who can do that. In addition, SimplySnap can connect to existing systems. We work with other building management systems (BMS) that can integrate our solution into the existing building management system. A lot of these facilities have BMS that control HVAC, security, and fire suppression, but the lighting system has always been a one-off that stands on its own. With SimplySnap, they can integrate that."
Another need Synapse fulfills is for any large facilities that want to employ daylight harvesting."What we found in the market is that most folks were doing a closed-loop daylight harvesting solution —and for warehouses where you've got 40+ foot high ceilings, a closed-loop solution doesn't work," Britnell said. SimplySnap employs an open-loop system that better handles groups of lights in situations like distribution centers with lots of skylights and shared workspaces.
"If there are systems out there claiming daylight harvesting in large distribution centers, I'd be curious to see how they're doing it if they're not doing an open-loop system," added Joe Hallman, Senior Product Marketing Manager. "We just want to make sure we're telling people what the difference is and explain how our system works when commissioning it. We designed it to work in those very large spaces and we had requirements and code that was driving that on our very first big project. We learned a lot over the last few years to really make that part of our toolbox."
There is a term that Synapse personnel like to use that is particularly apt when it comes to technology: Lighting is a backbone. "Once you put lighting into a facility, it's ubiquitous," Britnell stated. "Lighting is the backbone to other types of data that can ride along with dimming commands and scheduling (when you have a wireless network). You can take sensor data off of equipment, such as how much power a circuit or a particular device is using and send that information wirelessly over the lighting network."
"One of the things we launched earlier is Energy Insights," Hallman recounted. "Energy Insights allows a manufacturer to begin to manage their energy costs. In a manufacturing facility, they typically only know two things about their power: they know how much they used, and they know how much it cost. They don't know which equipment or departments contributed; they have no visibility there. We've been working with a handful of different manufacturing customers to put current clamps and sensors on circuits and equipment and to begin to give them the visibility they need to begin managing their energy costs."
That ability is the result of being a technology-based company. "We built the mesh networking technology, but it doesn't know it's a lighting network," Hallman explained. "The radios just do what we tell them to do, whether it's connected to a temperature sensor, an LED driver, or connected to a photocell or power clamp, it's just data — and that's what networks are built for, for sending and sharing data from one place to another." Fully utilizing the capabilities provided by a solid wireless network is what helps make Synapse Wireless stand out from the rest.