It's Showtime for the Museum of Broadway
Shared with permission from Designing Lighting magazine
By Stef Schwalb
Photo Credit: Monique Carboni
Affectionately known as "The Great White Way," the bright lights of Broadway bring millions of people from all over the world to experience and celebrate live theater. From exhilarating feline favorites, like Cats and The Lion King, to moving dramatic masterpieces such as Death of a Salesman and Long Day's Journey into Night, musicals and plays have enticed audiences since the inception of New York City's theater district back in the 18th century. Huddled around Times Square, the stages of Broadway's theaters have featured some of the greatest actors of all time from a host of generations. Of course, with such a rich history of performances it's a no brainer that there should be a museum dedicated solely to the education, inspiration, and art of the Broadway experience, but surprisingly, up until now there hasn't been.
However, after years of planning and preparation, the Museum of Broadway – which highlights more than 500 individual productions from the 1700s to present day – has opened to thunderous applause. Thanks to co-founders Julie Boardman and Diane Nicoletti, and a team of collaborators and industry experts, the first-ever permanent museum features both traditional and immersive experiences showcasing productions including Rent, The Whiz, Phantom of the Opera, A Chorus Line, and West Side Story, among others, plus a special exhibit called "The Making of Broadway," which brings attendees behind the scenes – soup to nuts – of what it takes to bring musicals and plays to together for weekly performances.
We all know a huge part of Broadway magic is based on lighting, and one of the key pros involved in the project is celebrated lighting designer Seth Bernstein. Renowned for his design work on Saturday Night Live and with high-profile clients Nike, Rhianna, and Louis Vuitton, Bernstein was thrilled to take on this Herculean task of bringing the vibrancy of Broadway to life. We recently caught up with him for some insights on the part he played in the project and what it felt like "coming home" to his roots. "I'm really lucky to have come from Ithaca, New York, which has this incredible regional theater called the Hangar Theatre that's attracted international talent," Bernstein says. "I grew up there, started working at the theater when I was 13, and kept going through college, so [working on the Museum of Broadway] did feel like going home."
Of course this homecoming came with more challenges than most. "New York is such a unique city because space is such a premium. Coming at the design for the Museum of Broadway, I knew we would have to take ideas that are made for 30-40 foot prosceniums and then adapt them to eight-foot ceilings," Bernstein explains. "That's one of the ways that my background really helped, because working on SNL for four seasons, we were always cramming things into corners of 30 Rock or shooting in odd spaces. Just knowing how to use every inch of available space is a skill I've developed working in New York for a decade."
That experience is what helped form Bernstein's approach to the project, which includes the use of track lights. While they aren't a theatrical tool, they were implemented in such a way that they could become theatrical. "Track lights were a choice of necessity, and then the theatrical twist we did was to actually research the original gel colors from the shows and to put those theatrical gels in them," Bernstein reveals. "I've had two really great assistants, Grace and Colleen, who did a lot of that research, and then Julie was able to put us in touch with some designers for primary source materials." In fact, Bernstein and his team were able to talk to the original light designer from A Chorus Line to get his plots and magic sheets. Of course in some cases, the original gels had been discontinued, so Bernstein and his team have had to look at the closest available substitutions. "It was a rather large undertaking, and it continues to be an undertaking, because just like on Broadway the gels burn out," Bernstein adds, "so the museum staff needs to change the gels just like a Broadway show would do."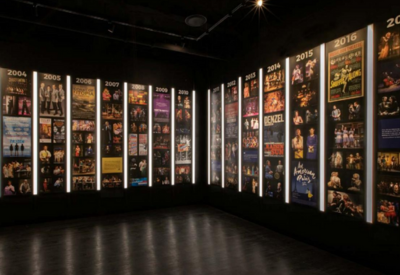 Additionally, certain areas of the museum also feature some unique fixtures, for example in the gift shop and the Ziegfeld Follies space. So, in a way, each exhibit is curated like its own individual project while simultaneously linking back to the museum's overarching story. "One of the first discussions I had with Julie, Diane, and the exhibit designer Giulietta Tripoli was how many practicals we could cram into the museum because there was a limited amount of expression we could do with the track lighting," Bernstein notes. "We're missing a lot of things that you can do on Broadway: We can't have any atmosphere; we can't have haze or smoke; and we had to eliminate a lot of the moving lights that are commonplace because that's just too much of a maintenance issue and our budget because they require specialized service." In terms of the fixtures, Bernstein knew how limited the team would be with the ceiling height and crossed off a lot of the tools that make a Broadway show engaging. "So I encouraged all of the exhibit designers to find ways to incorporate practicals like something as simple as the desk lamp in The Producers room, which brings the whole space to life, or the chandelier in the Follies area." The project architect (Paul Bennett Architects, PC) was also key in sourcing the custom chandeliers for the gift shop, which Bernstein incorporated into the lighting plan. All in all, Bernstein says, it was a collaborative process—just like Broadway itself.
As one journeys through the museum's spaces, you'll find that the area for the big finale—"The Making of Broadway"—has higher ceilings. Designed by the Rockwell Group, the exhibit was created to be a showstopper for visitors. "We really went all out with theatrical lights, shutter cuts, and creative angles," Bernstein notes. "That was the one where we went to the full-size fixtures. We just we saved it all for that moment, because if I had done that throughout the museum, the space would get really claustrophobic really quickly." In fact, Bernstein adds, if you go into a Broadway theater and you stand on the stage, the lighting and fixtures make it feel claustrophobic. "But I didn't want that sense for people attending the exhibit," he adds. "It was important to me that there wasn't a lighting fixture blocking your view of anything when you walk in the door or through a door to a room, which with eight-foot ceilings is a huge challenge."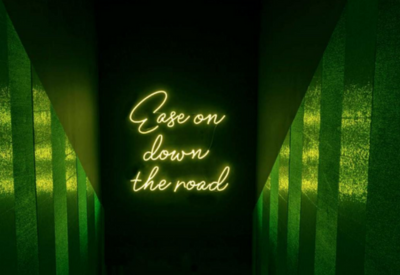 Additionally, Bernstein does a lot of work with time code for television and concert projects where he has to track ahead of time and put time-code markers in a computer timeline. Then all the cues run in an automated sequence to the music. "We're adding that to different exhibits within the museum as they evolve, which is a technology that's not new to Broadway but has become more common with the jukebox musicals where things are to track and there's a lot of automated scenery," Bernstein explains. "We'll continue to add technology that's new-ish to Broadway into the museum as time goes on, so it's definitely something that people would want to go back to." He equates the experience to theater enthusiasts going back to see their favorite shows when new leads take over performances. "That's part of the Broadway experience, too—if you're a fan of a show, you go back and see it more than once."
While new technologies may pique Bernstein's interest, that's not his primary focus. "We're constantly on the lookout, but my approach is not so much looking at what's new and flashy, but what can operate with efficiency, flexibility, and reliability." Add to that tracking supply chain issues, which Bernstein reveals is a huge part of his job as well as lighting controls and selecting a control system. "For the museum, I had to triangulate between what meets New York electrical energy code and can support show control [time code, color changing, time of day], and then also what's available," he explains. "We went through six iterations of the control system, so it's important to keep in mind to ask every necessary question both of yourself and of everybody else—that's part of the collaboration."
As for what inspires Bernstein, he's a huge art fanatic and because he travels all over the world for his projects, he gets to pop in to see a range of exhibits anytime he's in a city. "Luckily, there's moments on these projects where there's other work to be done so I'm able to go to museums, which I love to study architecturally," he says, "and the art itself really inspires me." As for the Museum of Broadway, creativity is what he loves most about the project. "I think it's important that Broadway has a museum like this," Bernstein concludes. "There are so many artifacts that even if it doesn't inspire people to make theater, it will inspire them to create, which is something I think was missing from New York."