When Good Lighting Goes Rogue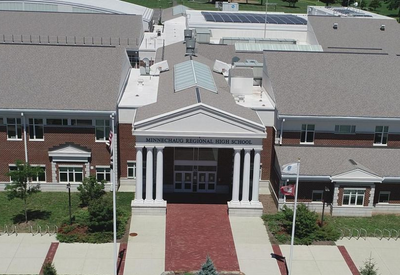 Last week a news article was widely circulated about a Massachusetts high school that had been under fire for wasting taxpayer money for nearly two years (18 months to be exact) because of a faulty lighting system. A mention of the problem even made the Weekend Update segment of the most recent Saturday Night Live broadcast (you can watch here).
According to reports, when the new Minnechaug Regional High School was rebuilt in 2012, a state-of-the-art lighting system was installed to save both money and energy. Unfortunately, it is currently doing neither as the system's software stopped performing on Aug. 24, 2021, resulting in all 7,000 lights staying on at full brightness 24/7 ever since.
"We are very much aware this is costing taxpayers a significant amount of money," Aaron Osborne, the Assistant Superintendent/Finance at the Hampden-Wilbraham Regional School District, told NBC News. "And we have been doing everything we can to get this problem solved." The cost of running all of the lights full blast has been estimated to be in the thousands of dollars per month.
Until a software fix could be developed, teachers and school staff have resorted to such low-tech methods as unscrewing light bulbs and shutting off breakers to lower energy consumption. At long last, the parts needed to replace the lighting system have finally arrived from China, NBC News reported, and Reflex Lighting Group is expected to do the installation over the February break. This time, there will be a remote override switch, noted Paul Mustone, President of the Reflex Lighting Group.
How did such an efficient lighting system go so terribly wrong? When the school was rebuilt in 2012, the new "green" lighting system included daylight harvesting to maximize savings and reduce energy costs by working in tandem with natural light. All was well until about nine years in; that's when the high school staff began noticing in 2021 that the lights were not dimming properly during the school day and, worse, were remaining on all night.
In short, the problem was a glitch in the computer software running the lighting system — but the company that installed the lighting – named 5th Light – was no longer the same, having changed hands several times over the decade and now under the ownership of lighting agency Reflex Lighting Group, which covers the territories of Maine, Vermont, Connecticut, Massachusetts, and Rhode Island.
The software breakdown caused the system to go into default mode, which meant all lights stay on. And there is more at stake than wasted energy; some of the classroom functions have been altered due to the always-on nature of the lighting. For example, teachers are unable to dim the lights to show videos and movies. In addition, having all lighting at full brightness at all times interfered with the enjoyment of other school activities.
Minnechaug high school junior Lilli DiGrande, co-editor of the school's online newspaper The Smoke Signal, wrote an article in November 2021 titled What's Wrong With the Lights? and interviewed Edward Cenedella, Director/Facilities & Operations for the Hampden Wilbraham Regional School District, who told her that the issue is more complicated than just a computer server problem.
"On occasion, the software would go down and it would somehow get corrupted. We would try to recycle it and eventually everything would come back on," Cenedella told DiGrande. "Unfortunately. the last time it got corrupted, it was unfixable."
To make matters worse, the original software was proprietary, and 5th Light no longer has information on the system. According to DiGrande's article, 5th Light told Cenedella that the new hardware they need isn't available because of a computer chip shortage.
"We're researching alternative ways wherever we can," Cenedella said. An estimate to replace the entire system was quoted at more than $1.2 million by Reflex Lighting Group.
By this point, town residents were loudly voicing concerns about the noticeable waste of energy and money. NBC News reported that Osborne and Schools Superintendent John Provost had written a letter to town leaders, explaining that they hired a software consultant to see if it would be possible to "patch the system" to override the default system. And when that proved unworkable, they explored the possibility of having simple timers installed or even an on/off switch.
"This was eventually deemed not possible and the district moved on to looking at physical solutions that would retain some of the energy-saving intent of the original lighting management system," Osborne and Provost wrote in response, according to NBC News.
Ultimately, Osborne told NBC News they had no choice but to go back to Reflex Lighting and, with the help of the company's electrical engineers, they came up with what he described as a "piecemeal" approach to solving the problem by replacing the server, the lighting control boards and other hardware.
Just as the pandemic has stymied much of the industry when it comes to supply chain issues, Minnechaug Regional High School was no exception. Although the parts were ordered in November 2021 and the repairs were supposed to start in February 2022, the replacement main server was delayed until March and the remaining equipment has been back-ordered multiple times.
The repair work is expected to commence in February 2023. "We could have accepted the $1.2 million bid to rip the system out and start over right away, but I suspect we would find ourselves in the same position," Osbourne said. "As I see it, there wasn't an alternative."
The Minnechaug high school conundrum serves as a caution to a fast-changing industry where software glitches can unintentionally cripple a lighting system and, worse, reverse all of the intended cost-savings while causing occupant discomfort. Future-proofing has long been a component of developing a lighting system solution, but how far out is the future? For today's lighting system designers and installers, the Massachusetts high school scenario points out the challenges of building a lighting system that needs to withstand company changes as well as software developments.