WBE-Certified Lighting Duo Expands From Residential to Commercial Work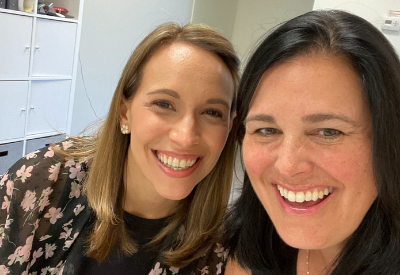 September 30, 2021
After specializing in high-end residential lighting projects in the Chicago suburb of Hinsdale for more than one decade, Karen Lang and Megan Mackey of award-winning Hinsdale Lighting would often be asked to consult on commercial installations through some of the architects and designers they'd worked with on those projects.
Lang, who opened Hinsdale Lighting in 2005, finds the stricter schedules and orderly pace of the commercial sector very appealing. While Hinsdale Lighting still takes on residential clients, the non-residential side began taking off. After the past few years of splitting their time between commercial and residential work, Lang felt it was time to create a separate entity for the non-residential business.
The turning point
"I began to think of what I wanted my legacy to be," Lang comments. "What do I really believe in? Between Megan and myself, we have a lot of specialized knowledge. I'm proud of what we do and that we know every lighting detail and add value to every project we're on."
Having already negotiated the business challenges of being a sole proprietor – and especially as a female in a male-dominated profession – she is also a champion of female empowerment.
Lang turned to Mackey, who has served as Hinsdale Lighting's Master Designer for the past 10 years to form a new business under the name Bryght Group. "Megan helped me build Hinsdale Lighting. Women do not have enough power in the world, but in order to have power you need money or access to it," Lang states. While they both have an equity position in Bryght Group, Lang wanted Mackey to have the majority share as part of fulfilling her goal of helping other businesswomen "have a seat at the table." Both will continue with Hinsdale Lighting – which still maintains a showroom and warehouse – in an advisory role while they further develop Bryght Group to serve the commercial lighting industry.
Hinsdale Lighting has been certified as a Women Business Enterprise (WBE) for years, but with Bryght Group's focus on commercial work, obtaining that certification has opened a lot of important doors and leveled the playing field when it comes to having access to municipal, state, Federal, and city projects.[Already WBE-certified, Bryght Group is pending approval as a Minority Business Enterprise (MBE) due to Mackey's Latina heritage.]
"The timing for Bryght Group is right, as the world has become more receptive to diversity in the industry," adds Lang, who points out the city of Chicago is especially sensitive to inclusivity when it comes to offering opportunities for female and minority business owners.
Through WBE certification and Hinsdale Lighting's reputation for outstanding lighting design, Lang and Mackey have had a steady stream of commercial work as well as projects that "walk the line between residential and commercial," Lang states. Together as Bryght Group, they have completed the lighting design on two multi-unit projects for the Chicago Housing Authority, as well as an assortment of office spaces, fitness studios, and day spas. They are currently designing the lighting for a new senior living center.
"We're a hybrid of a consultancy and commercial distribution," Lang says. "Our line in the sand is with pipe and wire, we just want to sell decorative lights."
Lang and Mackey feel confident that Bryght Group has a bright future ahead. "We worked a long time to lay the foundation right. It's expensive to do things right, but I believe that we've done that," Lang comments.
Where to go for assistance
It can be difficult for females to compete in male-dominated fields, but fortunately there are government programs that can help.
Hinsdale Lighting and Bryght Group are certified WBEs through the Women's Business Enterprise National Council (WBENC), which is the largest third-party certifier of businesses owned, controlled, and operated by women in the U.S. and an advocate for women-owned businesses in corporate and government supply chains. WBENC certification requires a thorough review of business documentation, including ownership, financial structure, personnel, management, and governance. More than 1,000 major corporations and brands as well as many states, cities, and government offices accept WBENC certification.
In addition to requiring MBE participation, the U.S. Department of Transportation (USDOT) has established a Disadvantaged Business Enterprise (DBE) Program that was created by the Safe, Accountable, Flexible, Efficient Transportation Act: A Legacy for Users. This program provides opportunities and increases participation for state and local transportation agencies that receive financial assistance from the USDOT, which includes the Federal Highway Administration, Federal Aviation Administration, and the Federal Transit Administration.
A DBE is classified as a for-profit small business that the U.S. Small Business Administration defines as at least 51% owned by one or more individuals who are both socially and economically disadvantaged — or if it's a corporation, then 51% of stock is owned by one or more such individuals and whose management and daily business operations are controlled by them.
Female lighting business owners can also reach out to the National Association of Women in Construction and,if appropriate, the National Association of Minority Contractors, National Hispanic Construction Association, National Black Contractors Association, National Minority Business Council, Minority Chamber of Commerce's Business and Entrepreneurial Skills Training (BEST), and the Minority Business Development Agency, which is part of the U.S. Department of Commerce.
In 2020, the Small Business Administration (SBA) instituted changes to provide easier access for Women-Owned Small Business (WOSB) companies to compete for eligible contracts in the Federal WOSB Procurement Program. The Federal government's aim to award at least 5% of all Federal contracting dollars to women-owned small businesses each year. In addition, the government limits competition for certain contracts to businesses that participate in the WOSB Federal Contracting program. These contracts are for specific industries where WOSBs are underrepresented, which includes Electrical Contractors and Other Wiring Installation Contractors; New Single-Family Housing Construction (except For-Sale Builders); New Multifamily Housing Construction (except For-Sale Builders); New Housing For-Sale Builders; Residential Remodelers; Industrial Building Construction; Commercial and Institutional Building Construction; Architectural Services, and Industrial and Commercial Fan and Blower and Air Purification Equipment Manufacturing.
The updated WOSB Federal Contracting program regulations that were published in the Federal Register in May 2020 can be accessed here.