New Light & Health Research Center Launches Online Certificate Courses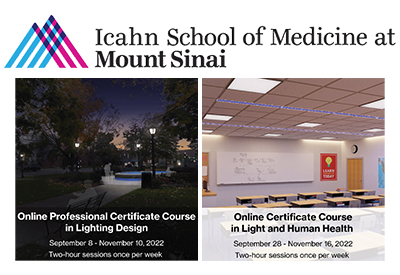 March 18, 2022
Established last year with some of the greatest minds in the field spearheading the research and development, The Light and Health Research Center (LHRC) at Mount Sinai has created two professional certificate courses beginning in September 2022. Each course will meet virtually for a two-hour session once per week. These interactive courses will be led by LHRC faculty and staff.
The courses are designed to provide the latest information and knowledge to a broad range of professionals interested in lighting including architects and other design professionals, facility managers, medical and health professionals, and people from lighting and related industries.
For more information about each course, and to register, clink on the links below.
Online Professional Certificate Course in Lighting Design
September 8—November 10, 2022
This 10-week online professional certificate course in lighting design provides the knowledge and skills needed to help those in professions related to lighting to begin or improve their practice in architectural lighting design for a wide variety of interior and exterior spaces. Click here for details.
Online Certificate Course in Light and Human Health
September 28—November 16, 2022
This 8-week online, interactive course provides a solid understanding of the latest research about the interaction between light and human health, as well as information on how to use the power of light to improve health and wellbeing in schools, offices, hospitals, homes, and other settings. Click here for details.