NEMA Publishes Technical Clarification Bulletin on Emergency Lighting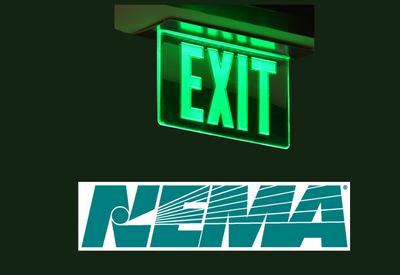 As an update to NEMA LSD 81-2019, the recent NEMA LS 20009-2022 Controlled Emergency Lighting bulletin incorporates changes in the 2023 National Electrical Code® NFPA 70® that address the increasing complexity of emergency lighting systems, specifically regarding improved definition and requirements for directly controlled luminaires.
The technical clarification bulletin, from the National Electrical Manufacturers Association (NEMA), offers detailed information for lighting specifiers, manufacturers, designers, contractors, and inspectors to ensure emergency lighting systems are up-to-date and meet the highest safety standards. It clarifies the technology and evaluations required for different emergency lighting system designs.
These updates were needed to adapt to technology changes that could enable luminaires to be specified with controls or components that can influence the emergency light level. Because of the complexity and varied nature of these system designs, it is important to clarify that many emergency lighting system designs already have extensive evaluations completed.
"This was a collaborative effort that included consultation with safety and standards developing organizations," explained Jeremy Yon, Industry Relations Leader for Current Lighting. "The bulletin updates are important in assisting industry stakeholders with understanding the 2023 NEC® changes and implementing emergency systems more completely."
The information in this bulletin was collected by a shared task force of the NEMA Lighting Division, including representatives of the Ballast and Driver, Emergency Lighting, Lighting Controls, and Luminaire Sections, as well as in consultation with safety and standards development organizations.
NEMA LS 20009-2022 Controlled Emergency Lighting, a Technical Clarification Bulletin is available for free digital download at the NEMA Store  or click here