IES Appoints New Executive Director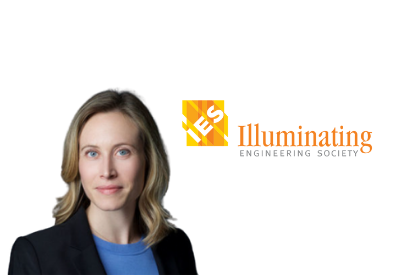 February 4, 2022
After a comprehensive search, the Illuminating Engineering Society (IES) has named Colleen Harper, MPA, CAE as its new Executive Director, effective March 14. Harper has 15+ years of nonprofit professional association experience, most recently as Executive Director of the Audio Engineering Society (AES), where she spearheaded the development of key strategic initiatives that united an international community of audio engineers, creative artists, scientists, researchers, educators, and students.
Prior to her AES role, Harper served as the Chief Operating Officer and Interim CEO for the American Society for Parenteral and Enteral Nutrition (ASPEN). Her experience also includes serving the National Investor Relations Institute as Director/Professional Development; as Association Manager for global meeting and association management firm Meeting Expectations; as Assistant Manager/Membership for the American Society of Heating, Refrigerating, and Air-Conditioning Engineers; and as the Director/Membership and Organizational Relations for the Geoprofessional Business Association.
Harper earned a BA from the College of William and Mary and a Master of Public Administration, Nonprofit Management degree from Georgia State University's Andrew Young School of Policy Studies. She has been a Certified Association Executive (CAE) since 2012 and was an Association Forum of Chicagoland's Forty Under 40 Award recipient in 2014.
IES Board President Susanne Seitinger, said, "We are so proud to welcome Colleen to the IES team. We are confident that her many talents, engaging leadership approach, and wide-ranging experience will position the Society for continued success as a vibrant, inclusive and growing community for lighting professionals across the globe."
"I am honored to join the Illuminating Engineering Society as Executive Director," Harper commented. "I look forward to engaging with our community of members, volunteers, partners and staff to build upon the Society's success, and further deepen our impact as we continue on our mission to improve life through quality of light."
The IES Board of Directors extends its appreciation to Daniel Salinas, former board president (2013-2014), who served as Interim Executive Director during the transition. In addition, the board recognizes Antonio Garza, immediate past president, for leading the seven-member Search Committee and coordinating with Koya Partners to conduct a thorough search committed to our diversity goals.
Executive Search Committee Members included: Susanne Seitinger (IES President); Antonio Garza (IES Immediate Past President); Frank Agraz (IES Vice President); James Potts (IES Treasurer); Cheryl English (Past President of the IES); Peter Hugh (DEIR Committee Chair); and Kathie Leslie (Nominating Committee Member).