CSL Presents Next Class of Cylinders and Entity Cylinders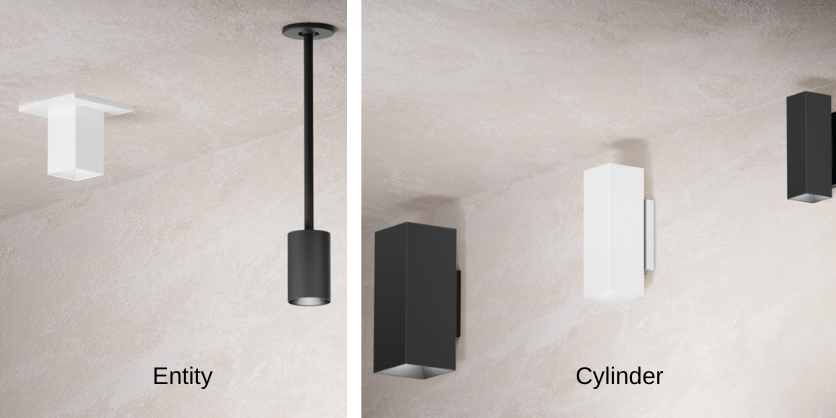 CSL Lighting, a division of Hudson Valley Lighting Group, has debuted new upgrades to its Cylinders and Entity™ Cylinders.
These evolved architectural cylinders are designed to revitalize and brighten hospitality, residential, and commercial spaces. They combine quality optics and high performance through lower profile canopies and easily removable bezels, providing enhanced accessibility to the product's internal LED light, driver, and optics. This innovative design eliminates the need for removing screws and rivets for repairs and replacements.
CSL's latest class of Cylinders and Entity Cylinders can be mounted on walls and surfaces, or suspended via stem or cord. They offer nearly double the lumen output compared to previous versions. The slim silhouettes seamlessly integrate the brand's patented low glare Silent Vu™ optic system, accommodating a range of mounting options and styles. The higher lumen output allows for installation in larger spaces with higher ceilings such as high-end single and multi-family residences, restaurants, and retail spaces. Additionally, the upgraded wall-mounted cylinders feature a 3G Vibration Rating, enhancing their durability to withstand vibrations from roadside traffic and other outdoor elements.
The upgraded standard Cylinders feature a minimalist design that removes all external hardware, resulting in a clean silhouette that enhances existing architecture. These versatile directional lights are available in 2″, 3″, and 5″ sizes in round or square shapes, and are offered in either semi-gloss white or matte black finishes. Custom color options are also available upon request.
The Entity Cylinders have been revamped, offering a shorter, bolder, and more elegant architectural form for pendant and flushmount lighting. Similar to the upgraded standard Cylinders, the Entity line features a beautifully clean and seamless look, free of all external hardware. Entity Cylinders are available in shorter lengths than the standard, measuring 4″ compared to 7″, as well as 6″ compared to 10 3/8″ and 12″. They are offered in round or square shapes, and are available in semi-gloss white, matte black, or custom colors.
View the product video