Custom Lighting Adorns the Renovated Cherokee Chophouse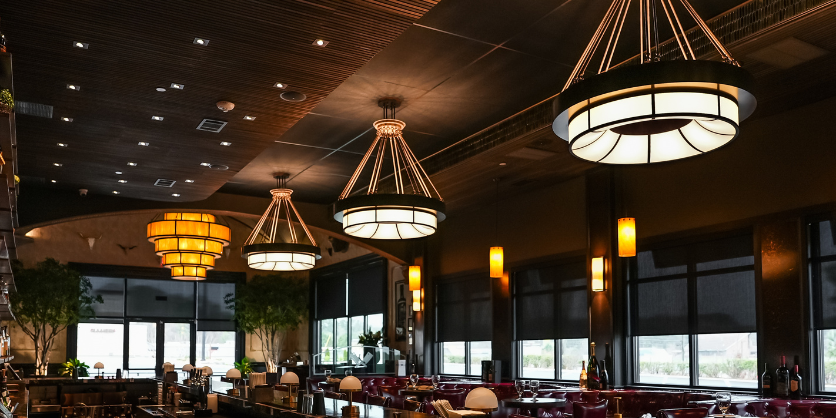 American film producer (most notably the award-winning movie Ali, profiling the legendary boxer) and restaurateur (the chain of Pauli Moto's Asian Bistro restaurants, among others) Paul Ardaji teamed up with Upstate New York-based domestic manufacturer Meyda Lighting to create a series of fixtures for the interior of the Cherokee Chophouse in Marietta, Georgia.
The Cherokee Chophouse collaboration began last year, when Ardaji was visiting his brother-in-law Gus Tselios, who owns six restaurants under his Marietta Family Restaurants umbrella.  Ardaji, who also operated several restaurants in Greenwich, Conn., saw great potential for Tselios' enormously popular 9,500-sq.-ft. steakhouse (then named Cherokee Cattle Company), which had been a local favorite since 2007 and closed temporarily during the 2020 pandemic as many restaurants did. Tselios seized that pause in foot traffic to give the restaurant a complete refresh inside and out and tapped his brother-in-law's design expertise for the interior renovation. 
Re-opening under the name Cherokee Chophouse to better reflect the new modern design décor and menu, the resulting Ardaji/Tselios collaboration has been a resounding success.
Ardaji proposed a color scheme featuring grays, bronzes, golds, black, and other complementary hues, which Tselios instantly loved. Next, Ardaji began creating an aesthetic for dramatic lighting fixtures that would enhance the new décor while providing ambient illumination. To bring his design concept to fruition, Ardaji contacted his long-time lighting collaborator Max Cohen of family-run Meyda Lighting to manufacture a custom solution.
"Lighting is everything," Ardaji stated. "The restaurant's interior tells the story with beautiful finishes, hand-painted crown molding, elegant wall treatments, fine paintings, and attractive bar features, but we needed a gorgeous chandelier for the 28-foot entryway ceiling," he explained. Meyda's dramatic five-tier Jayne pendant chandelier – weighing 380 pounds – was handcrafted and custom-sized to fit the space.  
In total, the Cherokee Chophouse boasts 40 chandeliers, pendants, and sconces produced by Meyda Lighting, including nearly one dozen new and unique designs from the manufacturer's team of designers and engineers. Since everything is made in Meyda's New York headquarters, meeting the installation deadline for the four distinctive areas – the private dining room, service area, main dining room, and bar – was no problem.
For the private dining room, Ardaji selected three Cilindro Barnabas drum pendants in a clean geometric pattern on Beige Textrene fabric with a Statuario Idalight bottom diffuser to take center stage, with complementary pendants also illuminating the space.
In the service/pick-up area, aircraft cable suspends two Cilindro pendants in a style that provides a modern sophisticated look above the counter.
The main dining room features 12 Cilindro two-tiered fabric pendants with Statuario Idalight bottom diffusers that eliminate any glare. To create a sense of playfulness in the dining area's wine room, the arched ceiling is covered in cork and punctuated with a trio of unique wine bottle chandeliers. To underscore the festive atmosphere, the walls are artistically embedded with wine barrels and a mural-sized reproduction of Renoir's famous Bal du moulin de la Galette painting anchors the back wall.  Cilindro linen pendants and half-cylinder sconces provide additional illumination.  
"I developed a powerful bond with Max Cohen and Meyda Lighting based on trust on all levels — including finished product, delivery date, material costs, and quality," Ardaji noted. "Max is like a brother to me, and we plan on collaborating on many additional projects in the near future."
Added Tselios, "Having a beautiful restaurant is very important; however, it's essential to have the perfect combination of high-quality food, service, and elegant design."