The Future of Lighting in the Metaverse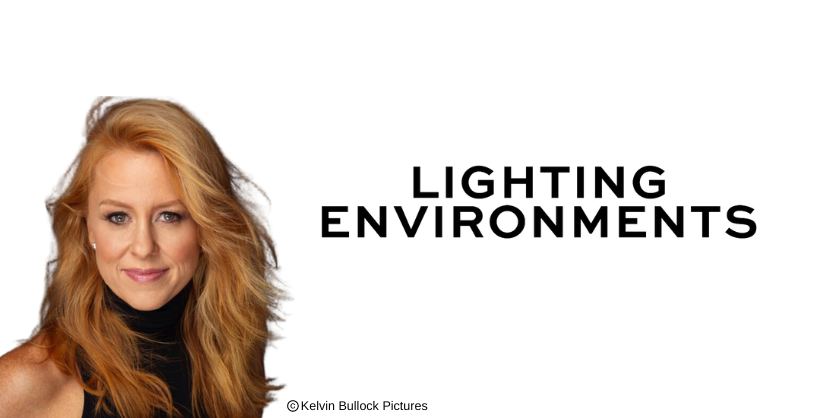 By Erin McDannald, CEO, Lighting Environments & Environments
Many industries are gradually integrating the metaverse into their operations, and the lighting sector, an intrinsic component of experiential design, can significantly benefit from enhanced digital tools that effectively depict its solutions in practical contexts. Lighting is unique in that it can establish unprecedented connections with end-users, and by leveraging the metaverse as a platform for collaboration and interactive demonstrations, the opportunities are endless.
When thinking about digital twins and the metaverse, suspending the broad population's current perceptions is crucial, disregarding its depictions in movies such as Ready Player One, The Matrix, and Source Code. The fantastical and unsettling worlds depicted by popular media don't accurately convey the "everyday" use cases and benefits of the technology. In its simplest terms, the metaverse represents a significant shift from consuming 2D content on flat screens to engaging with 3D content in a spatial environment. It is not a single destination, but rather a vast system that presents an immense opportunity for industries worldwide. Some projections indicate there will be approximately 1 billion metaverse users by 2030.
The lighting industry, known for its deep understanding and implementation of experiential design, has a unique advantage in the metaverse landscape. Recognizing this potential, the lighting industry can leverage the metaverse by integrating digital twins into this virtual realm, creating new avenues for exploration and interaction. This integration allows for a seamless connection between the physical and digital realms, emphasizing the importance of the human element in the metaverse experience.
Lighting professionals can bridge the gap between the physical and digital realms by focusing on offering an immersive experience rather than merely selling a product. Rather than just looking at a product on a screen or in a catalog, clients and customers will have the opportunity to experience fixtures and designs in lifelike digital worlds. From the size and scale of a fixture to its brightness and special features, digital twin technology presents a new way to learn, explore, and envision. This connection between the sensory aspects of the physical environment and the metaverse enriches immersion and engagement, creating a seamless blend of experiences.
Sales professionals and lighting designers can revolutionize their approach to selling and conveying lighting by harnessing the power of digital twin technology — a virtual replica of a physical space or person. The metaverse enables them to showcase the realistic transformative effects of lighting and demonstrate to clients how it can enhance their project's overall appearance and ambiance.
Project Visualization
By utilizing digital twin technology, which provides a virtual representation of a physical space or person, sales professionals and lighting designers can effectively showcase to their clients how lighting will realistically transform the look and feel of their projects. Whether in showrooms or through virtual demonstrations, digital twins enable the presentation of customizable memory tagging, allowing clients to experience and envision different lighting scenarios and designs. This immersive experience helps clients make informed decisions and provides a clear understanding of the potential outcomes.
Brand equity, which refers to the social value of a brand, plays a crucial role in business success. The metaverse is a powerful tool for enhancing brand equity by creating meaningful and memorable experiences. In the context of lighting professionals, leveraging the metaverse can contribute to developing a distinctive and reputable brand.
Circumventing Supply Chain Issues
The lighting industry grapples with the expense of acquiring physical samples that often end up unused. The advent of the metaverse presents a transformative solution, enabling dealers to bid farewell to this costly practice. Dealers can leverage virtual environments to showcase their lighting products and solutions without physical samples. This breakthrough could ease or eliminate the financial burden of purchasing and managing samples.
Additionally, the lighting industry frequently encounters ongoing headaches with supply chain issues, further compounded by the escalating costs of samples. However, utilizing a metaverse showroom could eliminate the need to pay for samples that will eventually go unused. This innovative approach provides a more efficient and cost-effective solution for dealers, streamlining their operations and mitigating the challenges posed by supply chain constraints.
Putting Less Emphasis on the Physical Showroom
The metaverse offers lighting dealers a compelling alternative to traditional physical showrooms, reducing their reliance on these spaces. With a digital twin showroom in the metaverse, dealers can create interactive and memorable experiences for clients, surpassing the limitations of physical showrooms. Such virtual environments remove the inconvenience of visiting physical locations while providing an equal, if not better, experience.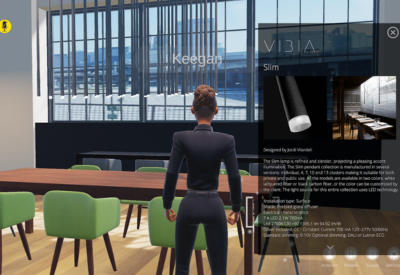 Beyond convenience, the metaverse presents cost-saving opportunities for dealers. Dealers can reduce utilities, repairs, and maintenance expenses by utilizing a digital twin showroom. Travel costs for employees and clients can be minimized as virtual showrooms can be accessed from anywhere. Additionally, the metaverse enables dealers to expand their hiring beyond their physical real estate footprint, accessing talent remotely. However, it remains crucial to maintain a level of human interaction and build meaningful connections with clients.
By integrating the metaverse, lighting professionals can design for the human experience both in the physical and digital realms. The lighting design community recognizes the significance of spatial interactions, adopting a more human-centric approach compared to other sectors, but it is time to revolutionize how we design spaces. Embracing the metaverse keeps businesses agile and prepared to adapt to the evolving landscape.
Follow Environments on LinkedIn and Instagram and X (formerly Twitter)