Silence Is Golden: The Rise of Acoustic Lighting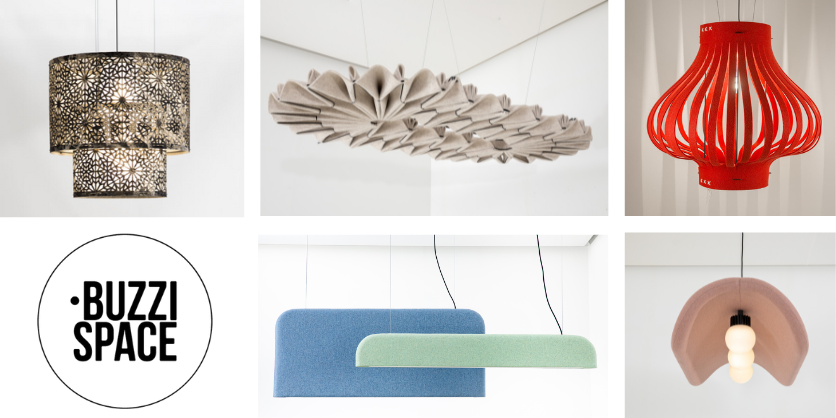 Creating an "open" format for offices, lobbies, and restaurants has been considered a "modern" and "fresh" approach in aesthetics — and the hybrid office model many companies have adapted post-pandemic to accommodate a flexible flow of workers has heightened its popularity.
The open space concept does, in fact, magnify the perception of spaciousness, but there is a challenge in sound management. For example, when trying to have a conversation in a crowded restaurant or in an office, background noise can be a distraction. Furthermore, certain materials – bare floors, concrete, tile, glass, and metal surfaces – reflect sound back into the space, compounding the problem.
On the plus side, an open floorplan allows offices, restaurants, and lobby areas to rearrange seating and gathering spots easily as needed. Rather than bringing back barriers such as office cubicles or restaurant booths, designers are looking for sound-absorption to come from an aesthetic source — and many are finding solutions in the growing acoustic lighting fixture category.
I asked founder & CEO Steve Symons and Global Acoustic Consultant Richard Ellerbeck of BuzziSpace – a manufacturer of acoustic panels, partitions, and lighting fixtures – to provide some insight.
Linda Longo: Is acoustic lighting mostly a retrofit solution, or one that is specified during construction?
Richard Ellerbeck: Overall, acoustic is – in too many cases – an afterthought. During construction and space planning, acoustic issues can be identified based on the volume of the space, the materials used, and the future occupation of the space. This means that [these concerns] can be taken into consideration during the planning stage.
While acoustic lighting is mainly taken into account during the original space planning or the refurbishing of the space, it can also be added as a retrofit solution. The interesting part is that the aesthetics of our portfolio – the design language and, of course, the colorful fabrics – can be a trigger for using the acoustic lighting, which then offers the hidden functionality of dampening the sound.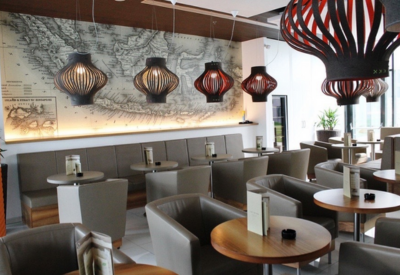 LL: How does one determine the correct acoustic solution?
RE: We strongly believe in a wholistic approach in acoustics. This means that we have official CEU courses in place for the A&D community and a continuous education program established for our reps. We also have a project and acoustic care team who get involved in more complex installations. The team, including the acoustic consultant, make an evaluation based on a briefing from the customer and then propose the best solutions. We also have our RT60 app (which can be downloaded for free) that allows the reps in the field to measure the reverb time in the space on-site and advise on the spot what kind of solutions would be appropriate for the issues.
During our product training sessions, we strongly emphasize that pre-measurement is needed because one lighting fixture might not do the trick. That message is continuously spread within our community and that is also the reason we advocate our free acoustic and project care service.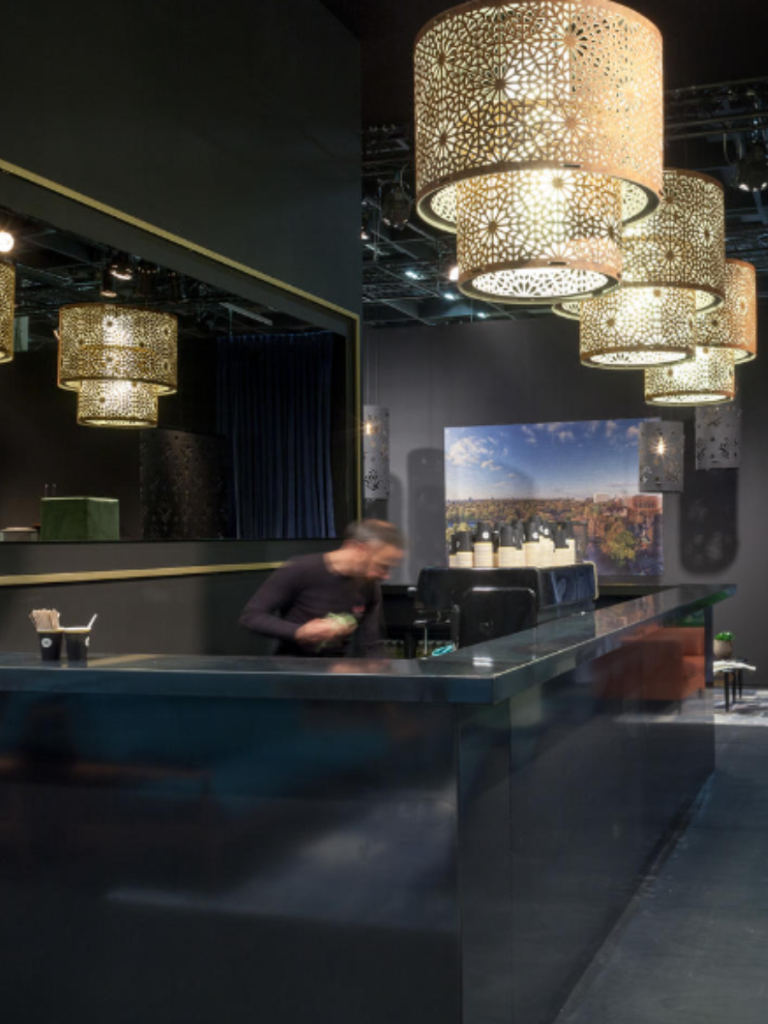 LL: Are there certain techniques that a contractor or electrician needs to know before installing a BuzziSpace fixture?
Steve Symons: We have a strong team of in-house developers, engineers with more than 20 years of experience in the lighting field. Their expertise is reflected in our lighting fixtures, which are as easy to install as other lighting fixtures in the market. No assembly is required for any of our solutions.
LL: Are there limitations regarding the lamping that can be used with acoustic lighting?
SS: We mainly offer dedicated LED engines or retrofit solutions. For some markets, such as contract by regulation, dedicated LED engines are required. Other markets, such as hospitality, might choose retrofit instead of LED because of the mood setting [ambiance] for the space. During the development and engineering [phase], official testing is done to prevent and avoid fire and heat hazard. All our lighting is UL-listed and all the technical specs of the light engines are communicated publicly in our product spec sheets and on the LTD and IES files.
LL: How is BuzziSpace sold? What is the channel of distribution?
SS: We have been strongly focusing on building a strong relationship with the A&D community, and year over year we have seen growth from that [group]. We also have an independent representative covering the full portfolio in almost every state and, in some states, we have both furniture and lighting reps. Our customers are dealers, general contractors, and lighting contractors. Some of our lighting solutions are also found on some ecommerce platforms in North America. In addition, BuzziSpace exhibits at international fairs such as Euroluce, Light+Building, NeoCon, and Milan Design Week.
WANT TO SEE MORE ACOUSTIC LIGHTING CHOICES IN THE MARKET?
Click here to see the brand new BuzziShield lighting fixture by BuzziSpace
Click here to see the brand new Georgina acoustic lighting pendant by Luxxbox
Click here to see the Drop STFU acoustic lighting series by Coronet
Click here to see the acoustic lighting line by Seascape Lamps
Click here to see the acoustic lighting line by LightArt
Click here to see the HUSH series by PLN Group, distributed by WakaNINE
Click here to see the many acoustic lighting configurations offered by Eureka