Familiar Faces in a New Place: Introducing Montclair Light Works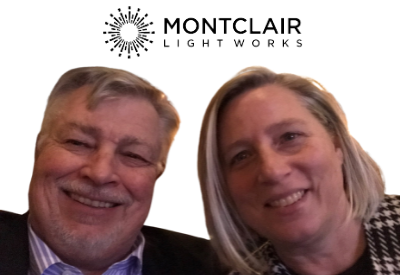 November 17, 2021
You might think launching a new lighting company in the middle of a pandemic would be a bad idea. After all, many well-established manufacturers were facing astronomical freight costs, unprecedented materials shortages, and monumental shipping delays. But what if a new company didn't have any of these problems?
Bill Brown and Betsy Levin worked side by side for several decades helping to run House of Troy's factory in Vermont. Unemployed at the height of the pandemic in 2020, they formulated a new plan that capitalized on their strengths and experience in domestic manufacturing within the decorative residential lighting channel.
They carefully researched their options and found a domestic manufacturing partner on the commercial side of the industry in Montclair, California and collaborated on a new line for the residential market under the name Montclair Light Works, which just debuted in fall 2021. Along the way, Betsy Levin became Betsy Brown as the two recently got married in August. While the factory is on the West Coast, the Browns will remain in Vermont.
The aptly named Montclair Light Works – targeted at the end-consumer and hospitality markets – features made-to-order ceiling, wall, and outdoor fixtures with spun metal shades in standard as well as a few custom-created finishes. The styles range from industrial, RLM styles softened for residential settings to farmhouse, MidCentury Modern, and vintage schoolhouse looks. Each fixture is made from scratch in California and ships within two weeks. Best of all, there are no minimums and free freight.
When visiting the website, you will notice retail prices alongside the product. While the company is selling direct to the consumer, it is doing so at full price/MAP. There is a Trade portal for distributors with attractive pricing for distributors who wish to carry the line.
Bill Brown is gradually building a national rep force, preferring not to rush the process but select the best available representation for the company. A digital product catalog will be available soon. New products will debut in January and the ensuing months.
With no shortages in materials, labor, or containers – plus the added enticement of no minimum orders and free freight – Montclair Light Works appears to be a reliable antidote to the widespread problem of delayed merchandise affecting most hospitality and residential projects.