Nichia & Bridgelux Disagree Over Phosphor Patent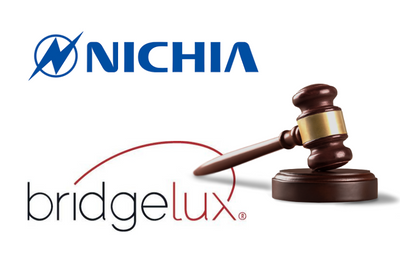 On February 13, 2023, Nichia Corp. filed a patent infringement lawsuit in the Tokyo District Court, seeking damages and to enjoin trading company CoreStaff Co., Ltd., from selling products from the F90 family of LEDs made by U.S.-based Bridgelux, Inc.
The asserted patent in the lawsuit, Japanese Patent No. 4974310, as well as related patents owned by Nichia in the U.S., Germany, and China, relates to LEDs incorporating KSF (PFS) phosphors. [KSF phosphors enable efficient and reliable LEDs that deliver excellent light quality with accurate color rendering.] Nichia owns more than 120 patents in over 12 countries covering aspects of this technology.
The accused products in this lawsuit are the following Bridgelux's products:
BXFN-30G-11L-3C3-00-0-3; BXFN-27G-11L-3C3-00-0-3; BXFN-40G-11L-3C3-00-0-3; BXFN-27G-21L-3C4-00-0-3; BXFN-30G-21L-3C4-00-00-0-3; BXFN-40G-21L-3C4-00-00-0-3; BXFN-50G-11L-3C3-00-00-0-3
In a corporate news release, Nichia stated, "While Nichia welcomes fair competition and believes it often leads to improved innovation, which ultimately serves the greater good of the industry and its consumers, Nichia will not shrink from steadfastly protecting its intellectual property, including its KSF phosphor-LED patent portfolio. As a leading innovator, known for producing high quality LEDs and ever improving the nature of light and optical mechanisms, Nichia's intellectual property serves as a springboard for its own future innovation, and therefore must be defended."
On February 20, Bridgelux issued the following statement: "Bridgelux F90 products incorporate cutting-edge technology to deliver unsurpassed performance at competitive prices. Bridgelux's technology results from years of advanced research and development and is protected by Bridgelux's and its subsidiaries intellectual property, which currently includes a patent portfolio of more than 550 worldwide patents that extend across the expanse of light emitting diode (LED) technologies, from chips to luminaire solutions. Bridgelux F90 Products are also under Current Lighting Solution and GE Lighting (Savant Company) PSF Patent Licenses.
"Bridgelux believes that Nichia's infringement claims are entirely without merit. For many years, Bridgelux has invested significantly in its research and development producing significant intellectual property rights. Bridgelux respects the intellectual property rights of others and expects others to respect its intellectual property rights. Bridgelux will not be intimidated by the misuse of litigation from those seeking an unfair advantage or seeking to limit the advantage Bridgelux has earned from our technology investments."
The statement continued, "Bridgelux believes this lawsuit is the result of the success of the Bridgelux F90 products in the market and Nichia's inability to compete with a competitive offering. Because Bridgelux's patent portfolio covers many core LED technologies including some important KSF application patents, Bridgelux intends to employ its own patent portfolio to protect its rights."