Here's How Networked Lighting Controls Can Level Up Energy Efficiency Efforts
By Tina Halfpenny, Executive Director and CEO, DesignLights Consortium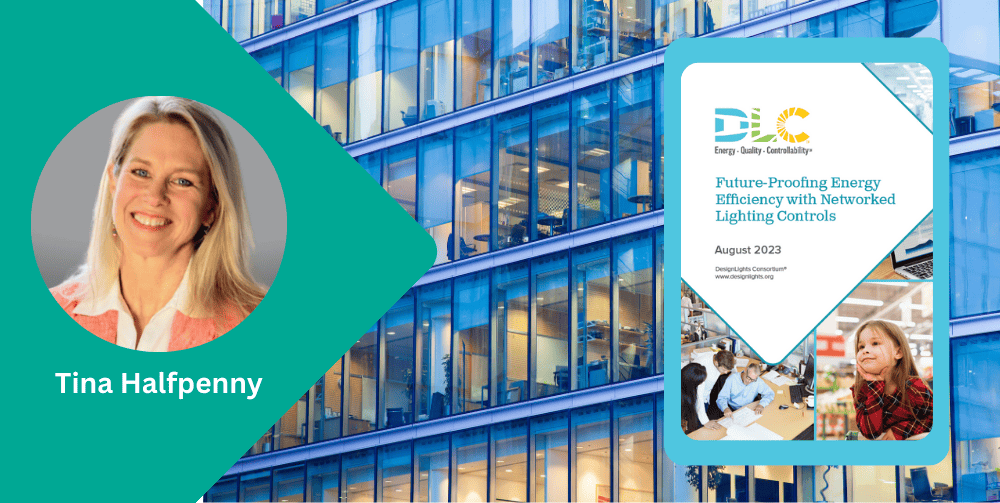 LEDs have been a boon for energy efficiency over the years. There are tons of new products and models, technology has improved, and prices have gone down. A combination of energy efficiency program incentives and policy changes transformed the lighting market. DLC qualified products have increased in efficacy by 30-40% in less than 10 years with a combined total of 1 million qualified models. So now it's time to stop looking at LEDs as a simple swap.
We are at another turning point now that first generation LEDs are starting to be replaced in commercial buildings. The great thing about LEDs is that they can last 14-15 years, but that means in order to realize the most energy savings over that time period, we must take the opportunity to add network lighting controls (NLCs) now, in every lighting retrofit.
The main benefit NLCs bring to the table is the ability to dim lights based on occupancy and time of day, and the integration with HVAC systems. There are also benefits related to demand control and response, energy monitoring, remote diagnostics, asset tracking, and occupant comfort. To test the value of investing in the technology, the DLC commissioned a study to calculate the economic potential of NLCs through 2030 and explore how utilities and state programs can get the greatest value with NLCs.
In a previous study, we found that network lighting controls (NLCs) can save roughly 50% more lighting energy than a standard LED retrofit. Our new potential study found deeper savings, because occupancy sensors can save 30% of the energy used for HVAC, and HVAC has the largest load using more than 50% of all the energy in a commercial building. We looked at Connecticut and Arizona as model states for the study since they both have robust energy efficiency programs with very different climates. In our pursuit to reduce energy and decarbonize, the results were convincing:
When NLCs are paired with HVAC to deliver occupancy signals, total electric energy consumption by commercial buildings is reduced by nearly 10% in CT and 5% in AZ. In some buildings, 20% of the total energy usage can be saved cost-effectively, when lighting and HVAC savings are combined.
This provides value for tenant spaces as well as whole buildings: if an HVAC system is not integrated with an NLC system, deep savings like this are hard to reach or expensive to realize with other programs like building envelope, plug load control, or HVAC replacement.
Businesses in CT could receive almost $1.2 billion in net benefits by 2030, while businesses in AZ could receive $217 million.
Networked Lighting Controls Bring Value
Those benefits should raise some eyebrows with energy efficiency program administrators faced with ambitious savings targets and decarbonization goals. Network lighting controls bring meaningful value in the future that is beyond the scope of LED retrofits—and can also mitigate nighttime light pollution, a problem that grows by 10% every year.
If we want to cost-effectively capture additional energy savings over the next 5-10 years, we need to invest in controls by incentivizing them now, and installing lighting systems that are at least controls ready. At the DLC, we've taken this to heart. For instance, we changed recent requirements for solid state lighting to require dimming, 75% of our qualified products include integrated controls and we are testing solutions to make NLCs more turnkey for small and medium-sized buildings.
Uptake for NLCs has been slow and we know there are barriers to installing them. However, the window of opportunity for more control and deeper savings closes with every quick LED swap-out. The problem is, many current LED retrofits cannot be controlled, and the need for more energy and carbon savings is becoming more urgent than ever. Energy efficiency programs need to prioritize networking capabilities and change incentives to take advantage of the massive savings potential found in our study.
Flexible Solutions
Right now, the focus of many energy efficiency programs is fixed on first-year energy savings and short-term goals. But decarbonization needs comprehensive, flexible solutions—we all need to start thinking about systems and long-term savings. Controls technology can deliver advanced energy savings at scale, unless it is locked out by inexpensive LED retrofits that make NLC upgrades unfeasible.
At the DLC we're collaborating with stakeholders to unlock the valuable potential of NLCs and transform energy retrofits in ways that build businesses, save energy, and lower carbon emissions. We're doubling down to make an impact on energy through lighting controls and building system integration.
Here are some of the main takeaways from our recent potential study. For a deeper dive, read our summary here. The full study is available to DLC members and by request.
Energy Efficiency Programs include:
Future-proof investments in energy efficient lighting by only offering lighting incentives for luminaires that include NLCs or are controls ready. Programs should discontinue incentives for lighting equipment that does not include integration of controls now or in the future. While this might increase the cost of first-year energy savings, it will support significantly higher cumulative long-term savings.
Revise program metrics with appropriate, updated timescales. Programs that emphasize first-year savings and three- to five-year efficiency plans will leave significant potential savings stranded as we near 2030. In places with 2030 decarbonization and electrification goals, investing more today to incentivize controls, or to ensure that lighting systems are at least controls-ready, is the most cost-effective way to capture additional savings five to ten years from now.
Make room in program budgets to incentivize NLC-HVAC integration. Integrating HVAC control with networked lighting systems, particularly in large buildings, offers the best opportunity for energy savings. Without high energy savings from NLC-HVAC integration to support high incentives, NLC uptake may be low in some regions and some building types.
Design programs to support NLC-HVAC integration, such as requiring a pathway for occupancy communication from lighting to HVAC, specifying communications protocols to enable building systems to integrate and communicate, and offering incentives for master system integrators to review designs before installation and help solve problems afterward.
We'll be discussing this study and how to unlock the potential of NLCs at our 2023 DLC Controls Summit, Sept 26-27, in Detroit. I hope you'll join us for this collaborative event!
For more info Future-Proofing Energy Efficiency with Networked Lighting Controls – DesignLights
Related Articles
DLC's New SSL Tech Requirements Begin Now
DLC Webinar to Cover Findings & Outline Next Steps in Energy Reporting
DLC's New Tech Requirements Go Into Effect Soon, Delisting Many Existing Products