Barron Lighting Group Celebrates 50th Anniversary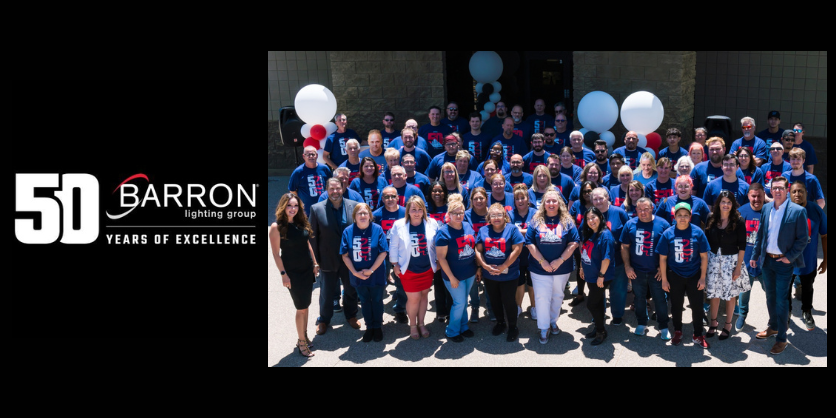 Glendale, Ariz.-based Barron Lighting Group, a manufacturer of commercial and industrial lighting solutions, is proud to celebrate its 50-year anniversary. Founded in Gurnee, Illinois in 1973, Barron has enjoyed five decades of growth built on its core values of integrity and innovation.
From the beginning and through the early 1980s, the Barron Manufacturing Corporation established itself as a premier electronics manufacturer dedicated to exceeding customer expectations. Based on a request from a local amusement park to design a low-maintenance exit fixture, Barron pioneered the very first LED exit sign, which led to the Exitronix brand of exit and emergency life safety products in 1984.
In need of larger facilities to accommodate its expanding product line and attracted to the vibrant culture, talented workforce and warm weather of Arizona, Barron relocated its operations to Phoenix in the spring of 1997.
"Arizona had everything our growing business needed," said Alan Tracy, CEO "including a vast pool of diverse talent to draw on, low cost of living, and a very business-friendly environment."
In 2010, doing business as Barron Lighting Group, the product line expanded to include two new brands: Trace-Lite commercial and industrial lighting; and the specialtyLED line of decorative LED lighting. Requiring more manufacturing and warehouse space, Barron purchased and renovated an 80,000-sq.-ft. facility in the neighboring city of Glendale in 2014. Two years later, the Growlite brand of horticultural lighting was acquired.
Barron Lighting Group now has more than 100 employees, 80+ agent partners, and nine warehouses across the country supporting all four brands.
"Integrity and innovation. Quality and flexibility. The employees of Barron Lighting Group celebrate these characteristics. We constantly strive to prove our reputation of delivering the world-class service that our customers want," Tracy stated. "We are excited to see what the future holds for us."