New Book Details Sustainability in the Retail Environment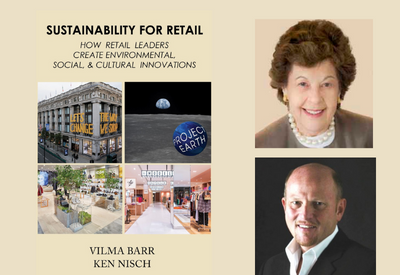 October 2, 2022
Co-authored by lighting industry writer Vilma Barr and award-winning retail design consultant Ken Nisch, their new book – Sustainability for Retail: How Retail Leaders Create Environmental, Social, and Cultural Innovations – defines programs employed by retail companies of all sizes to reduce energy use, innovate sourcing technologies, reverse wasteful packaging, sponsor plastic waste ocean clean-ups, and direct consumer buying preferences to sustainable products.
Barr and Nisch contacted 50+ firms worldwide to produce a comprehensive illustrated report that applies to all sectors of the worldwide economy — from financial investors to merchandising decision-makers. To counter the estimated contribution by the fashion industry of 10% of annual global carbon emissions – which is more than all international airline flights and maritime shipping combined – Barr, an author on topics relating to the built environment, and Nisch, who heads JGA Inc., store designers and brand consultants, focus their book on the advancements being made by entrepreneurs around the world as well as multi-national corporations, to reduce to reduce their firm's negative impact on the environment.
Sustainability for Retail: How Retail Leaders Create Successful Environmental, Social, & Cultural Innovations provides an international profile of retail's role in the worldwide climate crisis. It emphasizes the growing support by retail industry leaders for the adaptation of a circular economy for retail products, from supply chain to the selling floor. Case studies describe the advancements made by entrepreneurs and multinational corporations to reduce the industry's negative impact on the environment.
Notable successes that have been achieved in the private sector were interpreted from interviews, ranging from leaders of multi-nationals to specialty collections, to reports on innovative technological advancements. These include: Selfridges; VF Corporation; Tiffany & Co.; Richemont; LVMH; Patagonia; Galeries Lafayette; Shinola; El Palacio de Hierro; ThreadUp; B Corps; Simons; Whole Foods; Levi's; David Jones; Harrod's; Ecoalf; B Corp; Mahindra; Baggit; Printemps; and IKEA. Chapters on Resale, Reuse, and Remake comprise an escalating movement that didn't exist a decade ago to extend the life cycle of products that otherwise would become landfill and are now sanctioned with support from mass merchandisers such as Old Navy to small local workshops.
In his review, Robin Lewis, CEO of The Robin Report, says, "Vilma and Ken dared to go where few others have by undertaking voluminous amounts of research to create the only published work that presents the enormous issue of sustainability across the retail industry, including on an international scale, its impact from sourcing through to consumption. They brilliantly define the global problems and how private efforts are dealing with it in the present, as well as providing a vision of proposed public regulatory involvement for a hopeful future."
Published by Business Expert Press, (2022, 356 pp), Sustainability for Retail is available through Amazon as well as book retailers such as Barnes & Noble.