Axis Lighting Launches StencilFlex™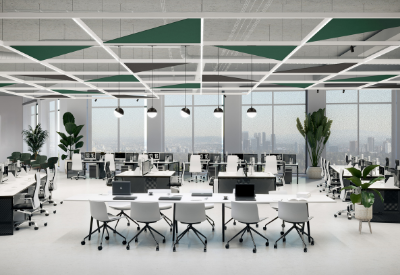 StencilFlex is a simple, cost-effective delivery system for creating layers of light, wherever you like. Its versatile framework is based on the Stencil® form factor and uses innovative IMW™ (Integral Modular Wiring), Nomadic™ and Empower™ technologies to connect lighting inserts where needed to maximize design flexibility.
"Many in the industry believe flexibility can't be achieved without the complexity and high installation costs of low-voltage track systems and remote drivers. However, by thinking outside the fixture, we've engineered a system that might change everything about architectural pendant lighting," commented Howard Yaphe, Axis Lighting CEO.
StencilFlex is based on the F.L.E.X. framework: a streamlined line-voltage structure that adapts to interiors and building-scale solutions. It delivers a broad range of architecturally integrated lighting elements and acoustic panels. This adaptable system can illuminate entire spaces or specific areas requiring additional light.
Built for strength and flexibility, new StencilFlex Hubs enable multiple forms throughout the framework. Depending on lighting requirements and design intent, a StencilFlex layout can include several frameworks, each one a pool of light, or it can form a single, large-scale framework with multiple neighborhoods of light.
F.L.E.X. frameworks accept any manufacturer's lighting inserts for linear lighting, downlighting, wall washing, track elements, and decorative pendants. The F.L.E.X. approach allows for full control of StencilFlex layouts using Empower™ technology, a wireless platform that leverages open standard design flexibility and individually controlled inserts.
Whether a framework is built to span an area, a floor, or an entire building, it can be filled with lighting inserts where desired. Where lighting isn't needed, blank inserts in the StencilFlex framework can be added to create a minimalist touch.
The innovative Integral Modular Wiring line-voltage framework and Nomadic™ inserts support F.L.E.X. simplicity, adaptability, and affordability. Cables and connectors are supplied as standard into all segments, so wiring isn't an issue. Wiring is standard 120/277 volt with standard 4-inch J-box at each power drop.
"Today, 50 percent fewer offices have drop ceilings and are now configured with open-ceiling floor plans. Architects and lighting designers are looking for lighting systems that are cost-effective and code-compliant while providing the flexibility to meet ever-changing space configurations. StencilFlex is the ideal solution," added Yaphe.
Get more information here