Commercial Real Estate Slows, Industrial Sector Outperforms

October 9, 2022
Source :National Assocation of REALTORS
In contrast to the U.S. economy's remarkable rebound last year, growth in 2022 has slowed due to rising interest rates, continuing supply chain bottlenecks, and the war in Ukraine. Q3 data from the National Association of REALTORS® (NAR) indicates lagging numbers in the commercial real estate market. Demand for apartments and office spaces, NAR reported, is lower compared to previous quarters.
According to NAR's statistics, multifamily absorption in the last four quarters was below pre-pandemic levels, while rents rose year-over-year at a slower pace — by less than a double-digit percentage for the last two quarters.
NAR pointed to a discrepancy between government data – which indicates rent growth is accelerating – versus its own. The reason the data doesn't align is because the Consumer Price Index (CPI), which provides information about rent inflation, uses data from the Consumer Expenditure Survey (CES) to determine the level of prices for goods and services. NAR stated that with the CES survey, most renters report the rent amount they have locked in earlier. Therefore, rent changes may take months to show up in government data. In contrast, the private sector publishes the listed rents – current rent prices. Thus, government data will likely show a decelerating trend in rent prices after several months, NAR affirmed.
Demand for multifamily housing will remains relatively strong, according to NAR, since higher mortgage rates and home prices may have force people to rent for longer due to decreasing affordability.
The Office sector continues to struggle, as many companies continue the hybrid work model they put into place since the pandemic. In Q3 2022, about 1.34 million more square feet of office space was vacant and placed on the market than were leased. Although more people returned to their offices, after four quarters with positive net absorption, demand for office space dropped as net absorption turned negative again, according to NAR's statistics. As a result, the market's net demand for office space decreased relative to supply, and the vacancy rate rose to 12.4% in Q3 2022 from 12.3% in the previous quarter. Meanwhile, the office sector has the highest vacancy rate across all sectors of the commercial real estate market.
NAR's data shows retail sales – excluding gas, auto, and non-store retailers – increased to $383 billion in August, up 19% from pre-pandemic levels (August 2019). As a result, net absorption increased to 23.3 million square feet in Q3 2022, up 22% from the second quarter. On the other hand, "neighborhood retail" that offers in-person services continues to advance even faster. Net absorption for neighborhood centers rose by 35 percentage points compared to Q2, NAR's data revealed.
It is the Industrial sector that continues to outperform, NAR stated. Demand is robust as net absorption was nearly 425 million square feet in the last 12 months ending in Q3 2022. Although demand may have tapered, the volume of industrial space absorbed continues to be double that of pre-pandemic times. As a result, this sector had the lowest vacancy rate – at 4% – of any other sector in the commercial real estate market.
As demand remains strong, rent growth of industrial spaces continues at historic highs, rising by a double-digit percentage (12%) in Q3 2022. Meanwhile, rents are rising even faster for logistics space by 13.5% year-over-year.
And as more Americans finally felt comfortable enough to take vacations again and business travel resumed, hotel occupancy rose during the summer, but remained below pre-pandemic levels.
Several factors go into evaluating the performance of the hotel sector, according to NAR. The three most prevailing measures are the Occupancy Rate, Average Daily Rate (ADR), and Revenue Per Available Room (RevPAR). The occupancy rate shows how many rooms are occupied; the ADR measures how much revenue is made per occupied room; and the RevPAR shows the revenue per available room.
NAR's data shows that these three factors increased in the last three months ending in August, compared to the same period in 2022. Hotel occupancy rose to 68.7% from 66.3%; ADR increased to $155/room from $137/room; and RevRAP went up to $107/room from $91/room.
The reason hotel occupancy is thought to remain below the pre-pandemic level has to do with the rising rate of inflation. Hotel occupancy was above 70% during the same period in 2019.
This table shows the vacancy rate and 12-month rent growth by sector: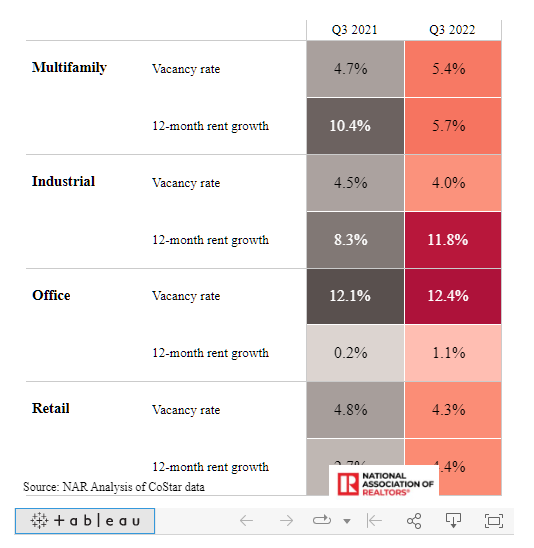 While all real estate is local, commercial real estate performed even better in some areas. Below are the top 10 areas that performed better by sector: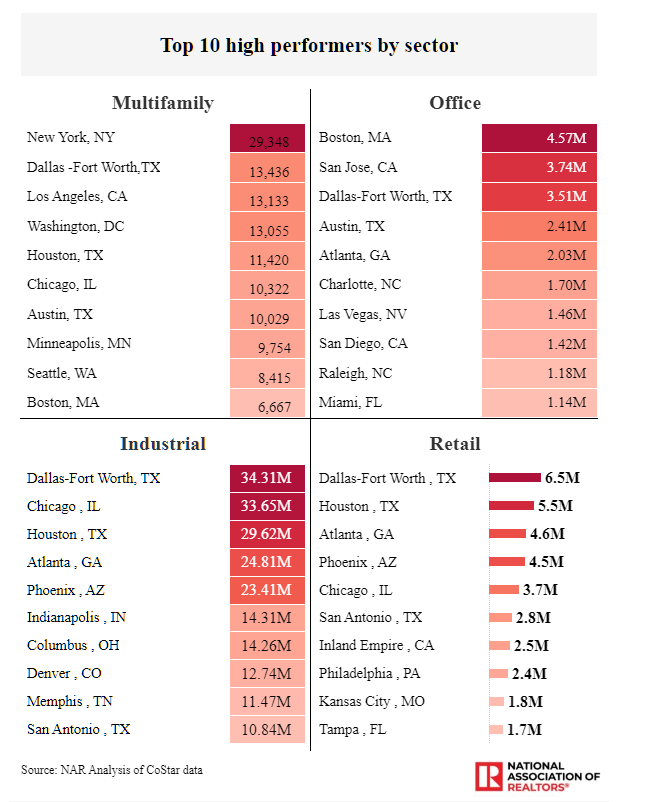 Inflation, interest rates, supply chain disruptions, and geopolitical events are the main factors that will determine how commercial real estate will perform in the following months.