WWE Headquarters Becomes Smarter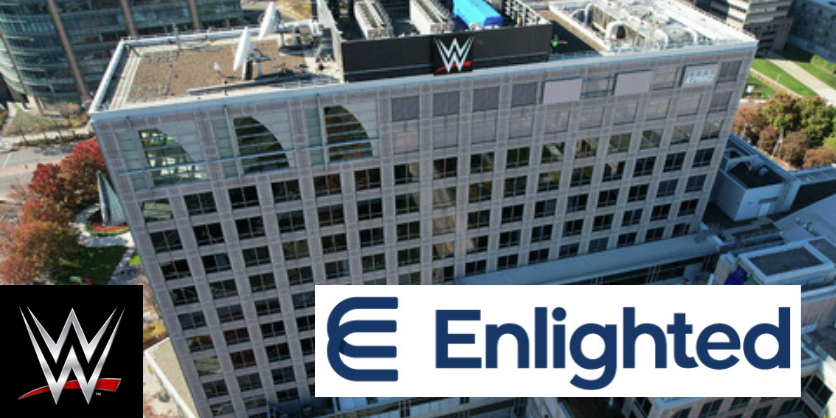 When World Wrestling Entertainment (WWE) employees returned to the company's Stamford, Connecticut headquarters full-time last month, there were impressive changes in their working environment.
California-based Enlighted, a leading proptech company owned by Siemens, was tapped by the WWE to support its vision of a smart, energy-efficient headquarters by implementing an intelligent lighting control system that uses smart sensors, IoT data services, and real-time location services (RTLS) to achieve occupancy-based energy savings, optimal space management, and provide the most productive environment for those returning employees.
WWE, a leader in global entertainment with programming watched in more than 1 billion homes worldwide, occupies 400,000 square feet of multi-purpose space that includes offices, studios, production and post-production facilities, conferencing, event, and outdoor terraces. With the size and complexity of space types, it was essential for WWE to optimize its real estate footprint using technology and software that could be flexible in addressing a wide range of uses.
Enlighted's role in the substantial renovation and digital transformation initiative – which includes nearly 2,000 sensors over a wireless, fault-tolerant network – features an intelligent lighting control system that enables task tuning, daylight harvesting, and energy-efficient lighting.
Enlighted's data services collect data 65 times per second from sensors that measure movement, temperature, and power. WWE will use the same sensing environment to reliably track assets, ranging from high value assets (memorabilia, collectibles) to operational assets (mail carts, merchandise samples, packages) in real-time for movement analysis and improved inventory management.
Rajan Mehta, Chief Technology Officer at WWE, explains, "The Enlighted IoT Smart Building technology will make it possible for us to realize enormous energy savings, increase our operating efficiencies and use data to capture building activity for intelligent data-driven space decisions. IoT-based asset tracking and process flow improvements will make our headquarters truly a smart building."
Stefan Schwab, CEO of Enlighted, adds, "Space utilization isn't just a matter of knowing how many people are in an office or production facility at a given moment — it's about understanding how employees and guests are moving and interacting with the spaces. The lighting-based sensors will capture vast amounts of data that WWE can use for a refined view of activity across all of their buildings. With the scalability of cloud storage, the company will be able to identify trends and preferences as they examine building usage data over time."
USLT editors asked Schwab to provide more detail on this comprehensive undertaking.
USLT: What were some of the design challenges you faced?
Stefan Schwab: With the size and complexity of the WWE project, we encountered several design challenges such as high ceilings, an open office space that was once one of the world's largest trading floors, and open bridge walkways — which are truly unique aspects of the new headquarters building. WWE is bringing all its Stamford-based employees to the new headquarters in 2023 and there is over 400,000 square feet of multi-purpose spaces, each with its own unique lighting requirements. It was also a challenge to coordinate with multiple vendors for a project of this size and to make sure we aligned with the larger project.
We overcame these challenges with our implementation teams, who have been on site working in lock step with our WWE partners from the design phase of the project through installation and go live. Additionally, the Enlighted IoT smart lighting's wireless capability made it easier to install, as there is no time spent pulling wires or dealing with unforeseen structural issues.
USLT: Do you find more of your projects involve data collection services along with lighting controls, or is this the first or largest?
SS: Enlighted has done projects of this size and scope for a number of companies worldwide. However, we are finding that many of our lighting control customers turn to us because they understand the importance of using smart IoT building data to help them meet their sustainability, efficiency, and bottom-line goals. The Enlighted technology is collecting massive volumes of data, temperature, and power — which companies can use to understand everything that is happening in their spaces.
The data from the Enlighted system allows the WWE to drive sustainability, engagement, and productivity for their people with the space.
The real-time building data shows which spaces are being used most often, what traffic patterns exist across floors, and which areas are most attractive to WWE operations. This analysis makes it easy to understand how much space is needed to conduct day-to-day operations and optimize their diverse spaces accordingly. The WWE will use Enlighted visualization dashboards to derive key insights for space design decisions — and, in turn, that will save the WWE millions of dollars.
USLT: What are some of the tools you used to maximize energy-efficiency that would benefit other commercial projects?
SS: The WWE project, and every Enlighted project, starts with creating a rich IoT environment with our IoT occupancy-based lighting control as the foundation. The WWE headquarters is outfitted with over 4,200 of our patented sensors embedded in the light fixtures that collect data 65 times per second and send it through our gateway to a cloud platform. The collected building data is then used by our occupancy-based lighting solution and can be integrated to HVAC for occupancy-based temperature control.
By setting up this infrastructure for WWE's lighting and heating control, we've essentially blanketed the entire headquarters building with a sensing infrastructure — collecting massive volumes of data on movement and activities in every space that a sensor "sees." Now the data can go beyond lighting and temperature control. The WWE can access deep insights about how their spaces are used, how people are interacting with their spaces, and how trends are changing over time for efficiencies in energy savings, sustainability to meet ESG and 2030 commitments, and provide spaces that make the WWE employees the most productive.
Our IoT occupancy-based lighting can essentially be used for medium to large commercial businesses and can be done for new buildings or retrofits and across industries including universities, pharmaceutical companies, offices, or healthcare clients.