EDITOR'S PICK: OEM Game Changer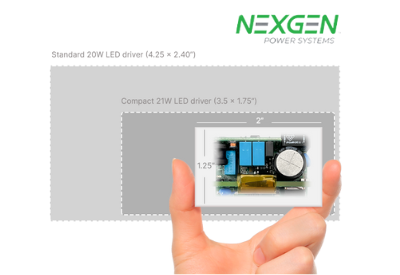 July 12, 2022
Headquartered in Santa Clara, Calif. and exhibiting at LightFair for the first time, NexGen Power Systems operates a Vertical GaN fabrication facility in Syracuse, N.Y., and a Center of Excellence for System Engineering, Marketing, and Systems Applications located in Bengaluru, India.
I met with Dr. Dinesh Ramanathan, NexGen' co-CEO, just before he was to present his session Unlock the Full Potential of Tomorrow's Lighting Systems With NexGen Vertical GaN™' to the LightFair audience.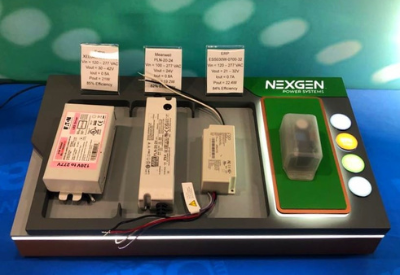 NexGen is a vertically integrated power electronics company that designs, develops, and manufactures power conversion systems based on Vertical GaN semiconductor technology. While the company's product line covers industries as diverse as computer/gaming, data centers, EV charging, and energy production, of particular interest to me at LightFair was NexGen's new Helios™ LED Power Modules serving the LED lighting market.
The primary game-changing element, in my opinion, was its significantly smaller size and impressive power relative to what's currently available. According to Dr. Ramanathan, NexGen Helios™ LED Power Modules offer twice the power density than comparable products on the market and is 40 percent smaller in size. This solution of providing more lumens in a smaller form factor opens up the possibilities in lighting fixture design and capability. The Helios' advanced power control reportedly enables <1% dimming range plus offers smart connectivity.
The benefit of attending an in-person trade show like LightFair was the ability to see, touch, and feel the weight of a new product first-hand alongside examples of what is being used in the market today.
According to Dr. Ramanathan, production on the Helios LED power modules will begin at the end of this year.