Southwire to Host Project GIFT's Disaster Relief Drive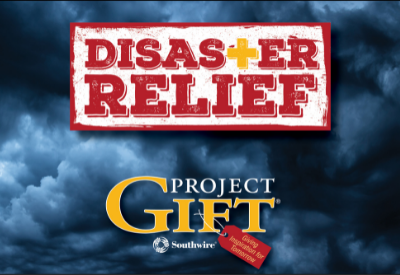 December 14, 2021
Deadly tornadoes and severe storms ravaged and destroyed communities in six states across the nation this week. At least 50 tornadoes were reported and 80+ people are feared dead following the storms. In response, family-owned electrical wire and cable manufacturer Southwire is hosting Project GIFT's disaster relief drive to collect much-needed supplies and holiday gifts for those impacted by these devastating storms in Kentucky.
Project GIFT volunteers will collect supplies from noon on Wednesday, Dec. 15 through 7 PM on Friday, Dec. 17 in the Walmart Supercenter parking lot located on 1735 South Highway 27 in Carrollton, Georgia.
"This is what Project GIFT is all about – providing inspiration in times where it seems hard to find hope and giving back when we see a need," said Blair Watkins, Project GIFT Coordinator. "We encourage each member of the community to consider making a donation to support the families whose lives have been upended by these horrible storms."
Items to be collected include non-perishable food, cleaning supplies, items for pets, and more. New cold weather gear, including hats, gloves, scarves, socks and blankets are also much needed. Volunteers will also accept holiday gifts for children and families impacted by the storms. Clothing or used items will not be accepted.
Monetary donations – cash or check – will be accepted at the collection site. An online portal for credit card donations is also available through the Community Foundation of West Georgia by visiting their website, clicking donate and selecting Southwire's Project GIFT or directly here. If donating through this site, please indicate that the donation is for Kentucky Disaster Relief in the Notes section.
"Southwire has had a strong presence and legacy in the state of Kentucky for more than 50 years, and one of our largest manufacturing facilities is located within an hour of some of the hardest hit areas," said Jason Pollard, VP/Communications and Giving Back. "The moment we learned about the impact from these storms, our volunteers and community partners were already reaching out asking how to help. The spirit of Project GIFT is incredibly special, and it is during difficult times like these where we really see the heart of our community shine."
For more information, including a more detailed list of needed items, visit Southwire's Facebook page and other company communication channels or reach out to the Project GIFT hotline at (770) 832-4729.