Single-Family Housing Faces New Challenges

April 25, 2022
An increase in interest rates – the Federal Reserve plans six more increases by year end – along with ongoing supply chain delays and rising material costs have led to a recent softening in the single-family housing market. Nonetheless, demand for housing remains high just as supply stays scarce.
"Higher mortgage interest rates and rising construction costs are pricing buyers out of the market, and these higher costs are particularly hurting entry-level and first-time buyers," said Jerry Konter, Chairman of the National Association of Home Builders (NAHB) and a home builder and developer from Savannah, Georgia. "Policymakers must address building supply chain disruptions to help builders bring down construction costs and increase production to meet market demand."
"The shift in affordability can be seen in the March data with strength for multifamily construction and some weakness for single-family permits," said NAHB Chief Economist Robert Dietz. "Our builder surveys show that confidence levels in the single-family market have declined for four straight months as affordability conditions continue to worsen, and this is a sign that single-family production will face challenges moving forward."
According to NAHB stats, on a regional and year-to-date basis, combined single-family and multifamily starts are 17.3% higher in the Northeast, 6.6% higher in the Midwest, 11.2% higher in the South, and 7.5% higher in the West. Single-family permits decreased 4.8% and multifamily permits increased 10 percent.
Looking at regional permit data on a year-to-date basis, permits are 5.5% higher in the Northeast, 4.0% higher in the Midwest, 7.5% higher in the South and 4.9% higher in the West.
Single-family permits authorized – but not started – stood at 149,000 and are up 14.6% year-over-year as higher construction costs and material delays slow previously permitted projects.
Most of the lighting showrooms I spoke to regarding a decrease in housing starts are not seeing a let up in demand. I was curious to know if the rising cost of materials was cutting into lighting allowances and budgets, but was assured any change is negligible.
"Similar to other fast-growing cities in the U.S., Raleigh is not seeing a pull back or drop in construction," notes Brian Howard, Showroom Manager at Lights Unlimited of Garner in North Carolina."We are not seeing a decrease in budget for decorative items like lighting. In fact, currently most homeowners with medium to high-end projects have no issue going over allowances or budgets. With the growth in the Raleigh market, and the amount of people moving here daily, this trend will likely continue through 2023."
Lisa Bartlett, owner of Pace Lighting in Savannah, Georgia, and the director of the Lighting Showroom Association, observed, "Things are going one of two ways – cheaper to avoid additional costs, or more expensive in order to justify higher list prices on homes."
Even in the Northeast, where housing starts are not as prevalent as in the South/Southwest, homeowners are not noticeably skimping on the lighting purchases they are making for their homes. It is widely believed that the pandemic's stay-at-home orders and quarantines for the past two years has created an emphasis and desire to continue investing in the home environment.
Yet, signs of market softening are beginning to appear. Housing website Redfin published an article yesterday noting that its Homebuyer Demand Index fell for the first time since June 2021, and the share of home sellers dropping their asking price was the highest in five months.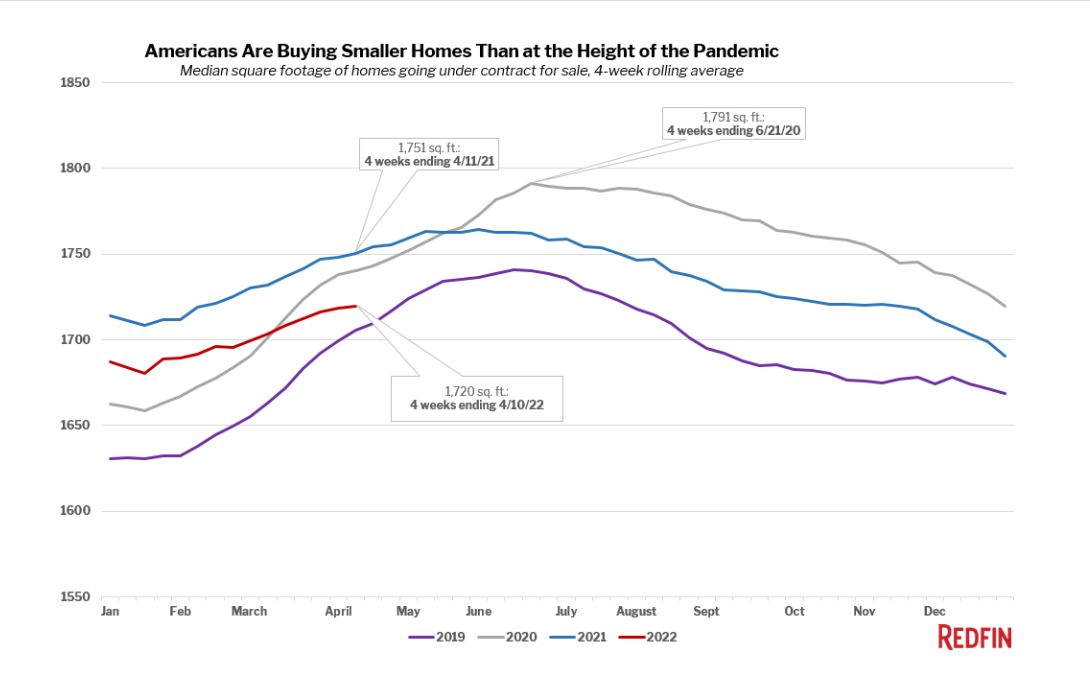 Redfin also reported that Americans are buying smaller homes than they were at the height of the pandemic: "The typical U.S. home that went under contract in March was 1,720 square feet, down 1.8% from 1,751 square feet the same time last year and roughly the same size as the homes that were selling just before the pandemic began."
"Buyers are purchasing smaller homes because usually the bigger the home, the more expensive it is," said Redfin Chief Economist Daryl Fairweather. "Even though we're starting to see signs the housing market is cooling down, it's still difficult for buyers on a budget to find everything they're looking for in a home. That's because there's still a very limited supply of homes for sale, along with sky-high prices for the ones that are on the market and rising mortgage rates. If buyers don't want to compromise on location, they probably need to settle for a smaller home."
At the Spring High Point Market, held in North Carolina at the beginning of this month, interior designers told me their businesses were stronger than ever in designing for both new construction and remodeling projects. In particular, higher-end lighting manufacturers who exhibited at the market reported great success in interest and orders. That said, delivery delays are still continuing; however, homeowners appear to be willing to wait for their chosen furniture and lighting rather than substitute products that are lower-priced or lesser quality but immediately in stock.