Lumileds Files Chapter 11, Plans to Reduce Debt by $1.3 Billion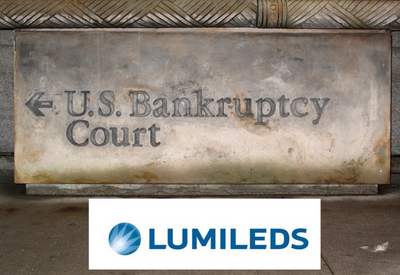 August 30, 2022
San Jose, Calif.-based Lumileds Holding B.V., a leader in innovative lighting solutions, has entered into a restructuring support agreement (RSA) with its lenders holding a significant majority of the loans outstanding under its prepetition first lien debt facility on the terms of a comprehensive financial restructuring that would significantly de-leverage and strengthen its balance sheet by over $1.3 billion. One goal of this action is to accelerate Lumileds' growth and enable further investment in innovation to pursue additional strategic opportunities through the injection of up to $275 million of liquidity.
To efficiently implement the de-leveraging, a narrowly focused prepackaged Chapter 11 involving only Lumileds' U.S. and Dutch entities has begun in the U.S. Bankruptcy Court for the Southern District of New York. Lumileds' European, Asian, and other foreign subsidiaries and affiliates are not included in the filing and are unaffected by the Chapter 11 process. Lumileds has obtained the necessary support from its lenders to confirm the plan prior to commencing its proceedings and expects to emerge from Chapter 11 within approximately 60 days.
"Over the past few years, we have been hard at work transforming our cost structure and innovation pipeline, which has allowed us to capitalize more effectively on future market trends as a leader in the lighting industry," said Matt Roney, CEO of Lumileds. "We have proactively taken steps to de-leverage our balance sheet given the ongoing challenges presented by global supply constraints, COVID-related issues, and the crisis in Ukraine. This recapitalization will enable us to further accelerate our efforts as a market-leading innovator within the specialty lighting industry. We believe that the most effective and efficient way to accomplish this is through a prepackaged Chapter 11 process that will be accompanied by a significant increase in our liquidity position. We appreciate the support of our lenders, who recognize the long-term value and enhanced potential Lumileds will create with a strengthened balance sheet."
Lumileds has filed "first day" motions to obtain the requisite court authority to continue operating its businesses and facilities in the ordinary course without disruption to its customers, vendors, suppliers, or employees. As a result, the company has sought court approval to continue to pay all valid amounts owed to vendors and suppliers as they come due. In addition, Lumileds expects that employees will continue to receive their usual wages and benefits without interruption.
"Our number one priority is to deliver never before possible solutions for lighting, safety, and well-being," Roney stated. "This comprehensive liquidity and de-leveraging solution will enable us to be an even more attractive and stronger partner as we continue to drive innovation in LED technology and offer new products and solutions to our customers. I would like to thank all of our valued employees, customers, vendors, suppliers, and sponsors for their ongoing support."
Under the terms of the RSA, the existing secured lenders are expected to commit to support a transaction that will reduce the company's funded debt by approximately $1.3 billion, from approximately $1.7 billion to $400 million comprised of takeback debt and post-petition loans, which will be combined into a 5-year exit facility.
The RSA also contemplates a commitment from certain of its lenders of up to $275 million in debtor-in-possession (DIP) financing, available as part of the Chapter 11 process. Subject to the Court's approval, the DIP financing, together with the company's available cash reserves and cash provided by operations, is expected to provide sufficient liquidity for Lumileds to continue meeting its ongoing obligations, including all obligations to customers, vendors, and suppliers, as well as employee wages, salaries, and benefits programs.
More information about Lumileds' restructuring, including access to Court documents, can be found here.
Evercore is acting as investment banker for the Company; Paul, Weiss, Rifkind, Wharton & Garrison, LLP, and Latham & Watkins LLP are acting as corporate and restructuring counsel to Lumileds, and AlixPartners, LLP, as financial advisor. PJT Partners is acting as financial advisor for an ad hoc group of Lumileds' lenders, and Gibson, Dunn & Crutcher LLP is acting as the group's legal counsel.