JuniperMarket Ecommerce Platform Opens in Time to Curb Omicron Market Disruptions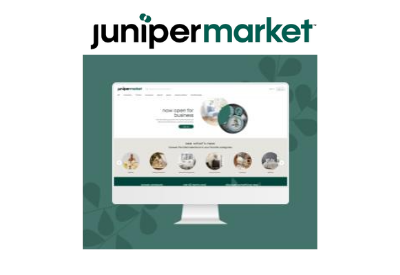 January 13, 2022
With the rate of positive cases in the Omicron variant surging nationwide at the precise moment that retailers and distributors are making their much-anticipated pilgrimage to January markets to place orders for the 2022 selling season, the JuniperMarket platform is making a timely debut. Those lighting, home decor, and gift buyers who wish to avoid in-person markets might find JuniperMarket to be a good solution for being a part of the market action from a remote location.
The new multi-line B2B ecommerce platform JuniperMarket – powered by International Market Centers (IMC) – went live before the Atlanta Market this week and kicks off with 1,500+ brands and 3 million SKUs of products. The participating brands – of which 50% are home products and 40% are gift – offer buyers breadth and selection in one place, including from the comfort of their home or office.
"The next era of wholesale buying and selling is here," said Juniper CEO Bill Furlong. "This transformation is inspired by our team's deep roots in the industries Juniper serves and the unmatched reach of IMC buyer and seller relationships. [It] is a major step towards a digital marketplace that helps buyers and sellers discover, connect, and transact – in person or online – seamlessly bridging physical and digital sales."
Added IMC CEO Bob Maricich, "In January 2020, we announced the investment to build Juniper, and since then – despite unprecedented business disruptions – the Juniper team has forged ahead, onboarding more than 220 staff members to build, test, market, and optimize a tool that is truly built for the industry by the industry. The launch of JuniperMarket is a major milestone in delivering additional market opportunity and value for IMC customers."
JuniperMarket's mix of established and emerging independent brands and sales agencies was designed to mirror at-market sourcing channels, encouraging buyers not only to expand relationships with proven product from current vendors but also to discover new suppliers. New sellers and new products are reportedly added daily to JuniperMarket to keep offerings fresh year-round and enable buyers to diversify their assortments and maintain a competitive edge.
In 2021, Juniper's at-market activities generated more than 26,000 pre-registered JuniperMarket users, with a direct pipeline to IMC's 600,000+ database of qualified retailers and designers offering sellers broad exposure and sales opportunities. Optimized Atlanta Market, High Point Market, and Las Vegas Market websites – which receive some 5.5. million visitors per year – provide additional visibility for the sellers currently participating in both IMC's physical and digital markets.
Like the at-market sales experience, sellers can assign buyers a representative to discuss merchandise selection and get assistance with payments, shipping, and other logistics. This functionality ultimately grows sellers' businesses without disrupting or excluding a vital part of the industry model and provides the personalized customer service buyers expect from their vendors.
"We know from years of experience in wholesale, and from extensive research in our vertical industries, that relationships are the fuel for B2B commerce," Maricich stated. "JuniperMarket is built to be inclusive to sales reps and truly additive and flexible for all."
For buyers, the integrated platform –including a single shopping cart split by brand, universal payment capabilities, access to JuniperCredit for Net 60 terms, shipping and tracking tools, and connections to sales representatives – facilitates shopping. Product discovery also is simplified with brand, product, and keyword searches, and the ability to favorite items and "pin" them to sharable boards.
For sellers, the buyer pre-qualification process replicates that of the physical markets and maintains the platform's wholesale integrity, enabling suppliers to focus on selling. In concert with physical markets, sellers also have the choice to qualify JuniperMarket buyers and set unique, buyer-specific wholesale pricing.
JuniperMarket also offers tools to make online sales accessible to brands and buyers of all levels. JuniperCredit, launched simultaneously with JuniperMarket, allows brands to offer Net 60 terms and receive payment in as few as two days. For buyers, JuniperCredit offers credit limits up to $250,000 (after an approval process) that can be used across multiple vendors to simplify credit management. In addition, JuniperMarket's exclusive shipping and tracking capabilities enable buyers to take advantage of special discounts and to easily track product shipment status.
Another Juniper advantage is total integration between JuniperMarket and the compatible JuniperCommerce suite of SaaS tools for sales automation and commerce. With tools for building a proprietary B2B website, sharing and syndicating product data, supporting sales representatives and managing leads and customers, JuniperCommerce provides small and mid-size brands with omnichannel sales and marketing tools for business growth.
Attendees at IMC's Atlanta Market (January 11-18 at AmericasMart Atlanta) and upcoming Las Vegas Market (January 23-27 at World Market Center Las Vegas) will have the opportunity to interact with Juniper through a series of events, such as a panel discussion "Bringing Your Business Digital – It's Easier Than You Think" and JuniperMarket Experience Centers for current users and new registrants in both cities. JuniperCommerce showrooms also are available at both markets for brands looking to join the platform or to learn more about Juniper's full suite of SaaS tools.