Survey Shows Electricity Usage a Prime Concern Among Consumers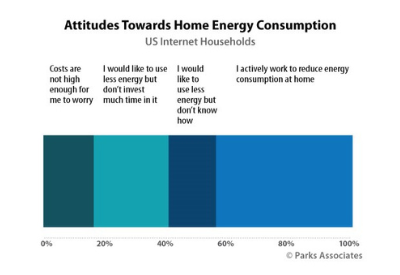 According to research firm Parks Associates' latest consumer study, "Smart Energy at Home: Renewable, Responsive, Resilient," most consumers view their current energy costs as too high and want to use less energy. Parks Associates shared these insights into consumer adoption of smart energy devices and interest in energy management use cases during the virtual session "Home Energy Management Solutions: Driving Energy Savings," as part of the 13th annual Smart Energy Summit: Engaging the Consumer held last month.
The Smart Energy Summit – sponsored by Schneider Electric, SmartThings, Rapid Response Monitoring, Zen Ecosystems, and Particle.io – featured the latest consumer research and industry insights on the primary factors driving consumers to adopt energy management solutions.
"Higher energy costs drive higher dissatisfaction, as evidenced by the number agreeing that their bills are too high, even among higher-income households. Bills are particularly higher for larger families and so is their dissatisfaction," said Chris White, Sr. Analyst, Parks Associates. "There is a large opportunity for utilities to market energy programs such as demand response and for device makers to sell energy-saving and energy-management devices to families who are looking for ways to reduce the bills."
"We all need to be smarter about our energy usage at home, and technology can help us with that. Using systems that work to determine when someone is home or not (and where they are in the home) and then proactively making basic decisions for us (like Orro does with controlling lighting) give us all the opportunity to consume only the energy we need at that specific time," said Colin Billings, CEO & Founder of Orro.
"It's less about how much data we have, or even how sophisticated our analytics have become, but how fast we can unleash the power of insights and intelligence produced across the entire energy value chain," said Bob Champagne, VP/Customer Experience Innovation, Smart Energy Water. "We are just seeing the 'tip of the spear' in terms of the impact energy data and intelligence is having on the global energy transition."