ETi SSL Vapor Tight Hybrid Fixtures Keep Out Moisture & Dirt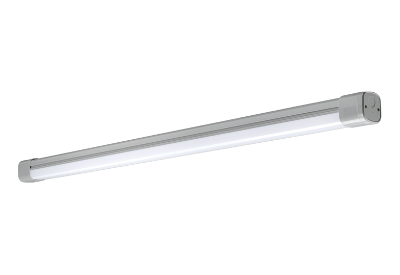 January 16, 2022
ETi SSL's 4-ft. Vapor Tight Hybrid is designed to prevent moisture and dirt from compromising the housing and damaging interior wires and components inside the fixture. Vapor Tights are weatherproof and IP65-rated, protecting it from water jets. The Vapor Tight Hybrid offers three versatile mounting options: suspended, surface, and continuous.
The Vapor Tight Series is ENERGY STAR®-rated and delivers 3,737 lumens of uniform ambient 4000K illumination. Installation is quick and easy with direct wiring and plug-in options, and the fixture is rated to operate reliably from -20o C (-4o F) and in high ambient 45o C (113o F) applications.
The 4-ft. Vapor Tight Hybrid provides long-lasting, maintenance-free operation thanks to its reported 85.96% lumen maintenance @ 60,000 hours and projected L70 @ 138,000 hours. It is ideal for residential and commercial applications, including offices, multi-family, hallways and corridors, garages, storage rooms, and workshops.