eLumigen Introduces A19 Rough Service LED Lamps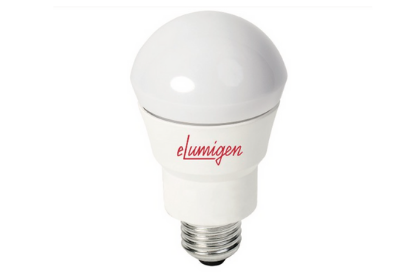 January 16, 2022
Known for providing lighting for harsh commercial and industrial applications, eLumigen released universal voltage (120-277V) 100-watt equivalent A19 LED Rough Service lamps. The series is reportedly the first LED lamp line to offer these features as well as 1,600 lumens, plus enclosed fixture-rated, wet location-rated, shatterproof tested to 20G forces vibration, and covered by a 5-year limited warranty in rough service applications.
Ideal for rough service applications benefiting from universal voltage lamps, these 100W-equivalent LED lamps help reduce energy costs, labor costs, and the headaches of frequent lamp changes in harsh environment applications. The company employs a 21-point validation process that goes beyond industry standards.
Not only have these lamps been tested to survive levels of vibration exceeding 20G forces, but they also employ a unique temperature holdback design that improves both safety and thermal management. The lamp diffusers are constructed of an advanced polycarbonate material that will not shatter.
The previous 120-volt version of the 100-watt Rough Service A19s received four awards in 2020: the Sapphire Award, Golden Hammer Award, Vision Award, and EC&M Product of the Year Award.
In addition, eLumigen's High CRI Class 1 Division 2 (C1D2) fixture was recognized with 2020 IES Progress Report inclusion, and as a 2021 Sapphire Award Finalist.