Registration for New West Coast Show Now Open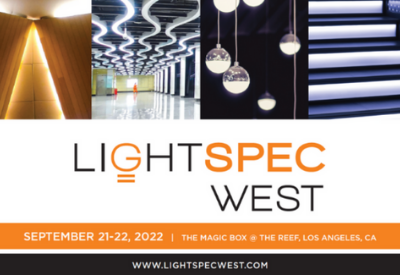 March 4, 2022
This September (21-22) marks the inaugural LightSPEC West 2022 in Los Angeles. This highly targeted conference and exhibition will provide lighting education sessions and product solutions for buyers and specifiers of commercial, architectural, industrial, high-end residential, and decorative lighting products, controls, and technologies.
A joint venture between LEDs Magazine and Endeavor Business Media, LightSPEC West 2022 aims to bring a fresh approach to events in the lighting industry, addressing the key topics in the industry today while fostering meaningful conversations, targeted engagement, and valuable networking.
The event will be held at Magic Box @ the REEF in Los Angeles, a state-of-the-art, unique venue housed in the iconic LA Mart building which has hosted a variety of trade shows and events in the arts and design industry. Attendees will include buyers, specifiers, architects, lighting designers, lighting manufacturers, and lighting distributors.
The following month, lighting professionals in the Midwest will experience the event as LightSPEC Midwest 2022, held October 4-5 at the Hyatt Regency Chicago.
To register for LightSPEC West in Los Angeles, click here
To register for LightSPEC Midwest in Chicago, click here