Registration Opens for 2023 LEDucation Trade Show and Conference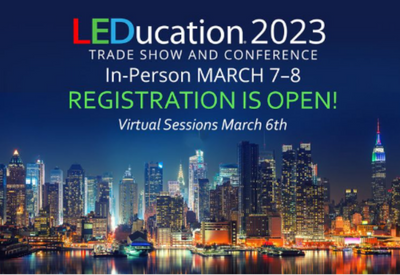 October 31, 2022
Advance registration is open for the 2023 LEDucation Trade Show and Conference, slated for March 7th and 8th at the New York Hilton Midtown in New York City.
Events kick off Monday, March 6, with eight virtual sessions beginning at 8:00 am EST, presented by a distinguished selection of professional speakers covering lighting trends, new concepts, solutions for sustainable and human-centric lighting, and more.
The in-person LEDucation Trade Show will run Tuesday and Wednesday, March 7 and 8, featuring 380+ exhibitors displaying state-of-the-art lighting and technologies. Many exhibitors will debut new products on view for the first time.
LEDucation will span three exhibit halls for 2023—the Rhinelander on the second floor of the New York Hilton Midtown, the Grand Ballroom, and Americas Hall 1 on the third floor. "We are pleased to welcome many returning exhibitors and approximately 70 new companies from across the U.S., Canada, and Europe," stated Burt Grant and Caroline Rinker, LEDucation Co-Chairs.
The in-person Conference on Tuesday and Wednesday showcases a stellar line-up of speakers and topics. Eight panel discussions will cover topics such as plug-and-play digital lighting, a historical restoration case study, glare metrics, post-pandemic design, embodied carbon, and lifecycle sustainability objectives. Designers working in outdoor and street lighting shouldn't miss the "Go Solar!" panel featuring eminent lighting designers Sandra Stashik and Nancy Clanton, or "The Art of Landscape Lighting" presented by Janet Lennox Moyer.
Additional presentations include deep-dives on 3D visualization for design and marketing, PoE, color-tuning and photometrics, DALI-2, building automation systems, emergency lighting, and more. NYC designers Nathalie Rozot and Jenny Werbell will present on Light Reach, a global initiative that is part of our industry's growing social justice movement. Craig Bernecker and An Hsu will introduce new lighting metrics that could replace illuminance calculations.
"This year's conference presentations are unmatched, anywhere," stated Wendy Kaplan and Craig Fox, LEDucation Presentations Co-Chairs. "We find the industry at inflection points in technology, design, leadership, sustainability… you name it. We feel we have selected the most important issues and chose industry thought leaders that will take lighting practices to the next level."
All registrants are encouraged to attend the Virtual Sessions on Monday, March 6, 8:00 am to 6:30 pm ET; there will be no concurrent sessions in the virtual space. In-person sessions run Tuesday, March 7, 9:00 am to 5:00 pm, and then Wednesday, March 8, 9:00 am to 2:30 pm.
For more information on the sessions, including complete presenter bios, click here
The Trade Show opens Tuesday at 10:00 am and runs until 6:00 pm.; hours on Wednesday are 9:00 am to 3:00 pm. For registration details, click here