UL Solutions Lighting Issues Standards Update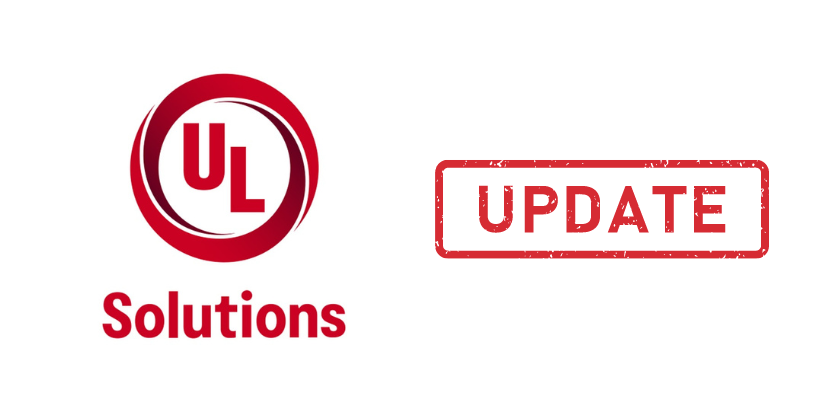 Lighting Standards Updates June 2023 Review
UL Solutions recently presented a midyear review of changes in standards relevant to the lighting industry. For a quick update, here is a compilation of the latest updates provided in the webinar. For full details, please watch the midyear review.
UL 153, the Standard for Portable Electric Luminaires
Battery Operated Portable Luminaires
• Flashlights or other battery-operated luminaires not included in scope of UL 1576, the Standard for Flashlights and Lanterns
• 30 Vdc max working voltage and 100 W (NEC Class 2) battery power capacity
• Includes normal temperature test, impact resistance, water entry resistance test (IP), photobiological Safety Assessment (RG0) and other battery tests
Plant Luminaires
• Residential application light sources which may emit hazardous UV, blue or infrared radiation are subject to Photobiological Safety Assessment of UL 8800, the Standard for Safety of Horticultural Lighting Equipment
Current Taps Exclusion
•Attachment plugs with an integral output receptacle shall not be used in portable luminaires for wet locations
All-Year Use String Lights
• Included in UL 153 coverage with 18 AWG or larger cord for both indoor and wet location applications
UL 924, the Standard for Emergency Lighting and Power Equipment
Battery Requirements
• Stronger temperature management and Lithium-ion battery charging circuitry tests to avoid thermal runaway and failures due to increased lithium technologies
Markings
• All clauses of the marking section were reorganized into four sections and updated.
Emergency Systems
• Informative appendix added for guidance with Emergency Lighting Control Functionality (ELCF) Test and instructions
UL 1598C, the Standard for Light-Emitting Diode (LED) Retrofit Luminaire Conversion Kits
The ballot of the proposed new 2nd edition of UL 1598C was closed on May 3rd, 2023. Two proposed topics achieved consensus. Based on the comments received, a 30-day recirculation will be started on June 30, 2023.
Scope Expansion
• Requirements apply to all LED retrofit kits to conform with market offerings
Specific types of host luminaires covered in the following supplements:
• Low voltage LED retrofit kits
• Commercial refrigerator and freezer LED retrofit kits
New revisions to retrofit kit markings and instructions
• The importance of the proposed simplified hard copy of installation instructions is the option to provide simplified hard copy of installation instructions containing critical information while enabling the access to the complete installation information on the publicly accessible website
UL 8750, the Standard for Light Emitting Diode (LED) Equipment for Use in Lighting Products
Scope Expansion
• Addition of power sources to the scope. Power sources provide supply to components other than LEDs, i.e. components for sensing and data transfer
• Additional requirements for coin cell lithium batteries similar to UL 153
Dielectric Voltage Withstand (DVW) Testing
• Option for removal of integral Surge Protection Devices (SPDs) from a circuit to allow for the DVW testing to proceed recognizing the intended function of SPDs
Markings
Text updates of requirements for consistency, including:
• Definitions for built-in products and instruction sheet
• Direction for markings that can be provided on an instruction sheet
• Option for online instruction sheet (via QR code or URL)
• Supplement marking criteria alignment of requirements in the main Standard
Control Circuit Lead Wire Colors
• Alignment of specific wire insulation color with NEC 2020 rules.
• Prior criteria did not contradict the NEC requirements
UL 8800, the Standard for Horticultural Lighting Equipment and Systems
Indoor Wet Rating
• Horticultural luminaires for indoor use are subjected to water but no UV exposure and do not require UV ratings for polymeric enclosure coating
• Light source does not emit UV and is not intended for use in greenhouse
Markings
• References for photobiological safety markings were updated
Remote Power Sources
• New supplement for low voltage or Class 2 power sources (refer to UL 2108 Part II or III)
UL 8802, the Outline of Investigation for UV Germicidal Equipment and Systems
The 5th edition of UL 8802 outline of investigation was issued on March 16th, 2023
• The document is divided into five parts covering several types of germicidal products and assemblies, as well as complete germicidal systems
• Ballot for UL 8802 standard proposal was closed on June 27th, 2023, and achieved consensus
The two major differences between the current outline of investigation and the proposal:
• Height Reduction
• Test plan lowered from 2.1 m to 1.9 m
• Annex G
• Best practices for germicidal equipment installation outlined
IEC 62471-7:2023 (Ed. 1) Photobiological safety of lamps and lamp systems
Part 7: Light sources and luminaires primarily emitting visible radiation
• Applicable to normal use electric light sources and luminaires that emit radiation predominantly within the visual spectral range of 380 nm to 780 nm used for space illumination or signaling
• Replaces IEC TR 62778:2014; covers all optical radiation hazards evaluation as listed in IEC 62471 over the spectral range from 200 nm to 3000 nm
• IEC 62471-7 test results can be transferrable from the light source to the luminaire
• As of this online seminar presentation, IEC 62471-7 is not referenced in any lighting product standard and will be referenced in the next edition of IEC 60598-1 (Ed. 10)
About UL Solutions
A global leader in applied safety science, UL Solutions transforms safety, security and sustainability challenges into opportunities for customers in more than 100 countries. UL Solutions delivers testing, inspection and certification services, together with software products and advisory offerings, that support our customers' product innovation and business growth. The UL Certification Marks serve as a recognized symbol of trust in our customers' products and reflect an unwavering commitment to advancing our safety mission. We help our customers innovate, launch new products and services, navigate global markets and complex supply chains, and grow sustainably and responsibly into the future. Our science is your advantage.