NAILD Convention to Coincide With ArchLIGHT Summit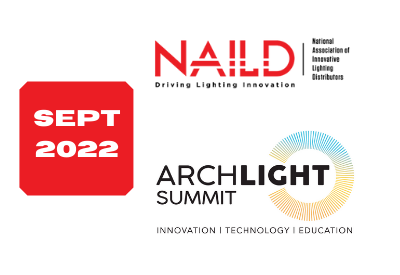 March 9, 2022
Lighting professionals attending the National Association of Innovative Lighting Distributors' (NAILD) annual convention at the Dallas Market Center (DMC) September 13th & 14th might want to extend their stay a day or two to attend the second annual ArchLIGHT Summit commercial lighting show, which will be held on the DMC campus September 13th to 16th.
"We are excited to host NAILD's convention and share what makes our comprehensive lighting marketplace so unique to the industry," said DMC President & CEO Cindy Morris. Registration for NAILD's convention will also give attendees access to all ArchLIGHT Summit programming.
NAILD-specific events will be held September 13 & 14, with ArchLIGHT Summit following September 15 & 16 with 20+ accredited sessions and a single exhibit floor showcasing leading brands representing both events.
Convention attendance will present NAILD members with opportunities to network with other lighting professionals, participate in pertinent group discussions, and receive continuing education credits (CEUs). Members will convene to set the priorities of the association, and vendors will have the opportunity to showcase their companies to a wide audience, including NAILD distributors and other attendees of the ArchLIGHT Summit.
"NAILD's partnership with ArchLIGHT for the upcoming convention will no doubt strengthen networking and educational opportunities for our members, and will provide a wider audience for our vendors," said NAILD President Brian Amundson. "It's a solid win-win-win-win." NAILD's official podcast "Get a Grip on Lighting" will broadcast live from both events.
The NAILD convention and ArchLIGHT Summit are just two events at DMC that week encompassing the design/build and home/design industries. Dallas Design Week will also take place September 12th to 15th, Total Home and Gift Market will take place September 13th to 15th, and WestEdge Design Fair expands to Dallas with a new event September 16th to 18th.
NAILD members can register for the 2022 convention here. All participants have access to ArchLIGHT Summit's hotel block at the Renaissance Dallas, within walking distance of DMC, for $169/night and reservations may be made here. NAILD vendors can sign up for booth space via ArchLIGHT Summit's Exhibitor Registration. Fore more information about NAILD membership or attending the 2022 convention, contact NAILD here