Fluxwerx Announces Promotions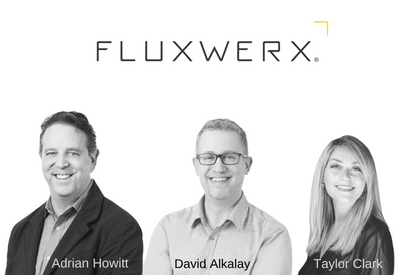 August 18, 2022
British Columbia-based lighting firm Fluxwerx Illumination has made recent changes to its sales management team.
Nine-year company veteran Adrian Howitt has been promoted to VP/Sales & Marketing. Prior positions within Fluxwerx includes Regional Sales Manager, National Sales Manager, and VP/Sales.
Eight-year company veteran David Alkalay has been appointed Regional Sales Manager for the Northeast, which encompasses the states of New York, Pennsylvania, Delaware, Massachusetts, Rhode Island, Maine, Vermont, New Hampshire, Connecticut, Maryland, and the District of Columbia, as well as the Canadian provinces of Ontario, Quebec, Manitoba, Halifax, Newfoundland and Labrador.
Six-year company veteran Taylor Clark has been named National Sales Manager. Previously, she served as Regional Sales Manager for Western USA. Since joining Fluxwerx, She remains the primary contact for Fluxwerx agent partners in western USA.