Ferguson & ENGIE Collaborate on Renewable Energy Project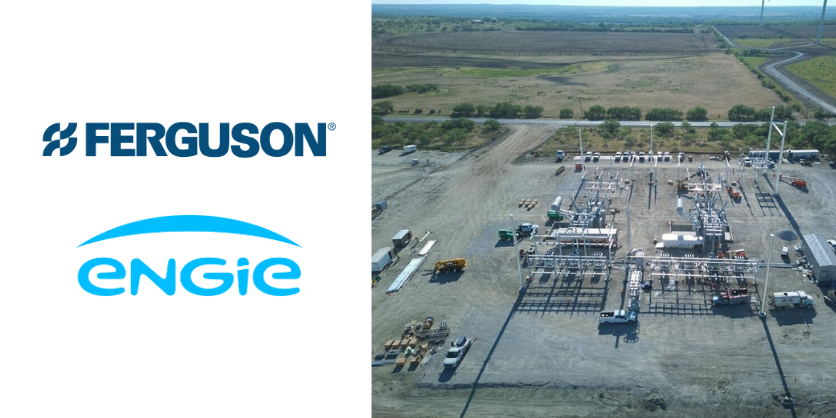 Ferguson and ENGIE North America have announced a 65 MW Virtual Power Purchase Agreement (VPPA) from ENGIE's Century Oak wind project located in Callahan County, Texas, 160 miles west of Dallas. The 65 MW Century Oak Wind agreement will generate the power equivalent to the annual electricity needs of more than 34,000 average U.S. homes.
This VPPA between ENGIE and Ferguson is expected to generate enough clean wind power to match a significant portion of Ferguson's annual electricity use in the U.S. and Canada.
The agreement with ENGIE, a subsidiary of ENGIE S.A., a global leader in the transition to renewable energy, is part of Ferguson's strategy to reduce its environmental footprint through fleet management, energy-efficient upgrades across its facilities, investing in onsite solar and seeking offsite renewable energy opportunities.
​Schneider Electric also supported the Ferguson and ENGIE collaboration, through its VPPA advisory services on the project, managing the strategy and other ongoing negotiations throughout the total process.
The Century Oak wind project is part of ENGIE's almost 7 GW of wind, solar, and storage in operation or construction across North America. The 153 MW project will become a long-term contributor to the 13,000 residents of the Callahan County community. The project is expected to generate tax revenues of around $14 million to support county services and an additional $19 million in revenues to the local school district, supporting teachers and educational infrastructure over the 30-year life of the project.
The energy transition is creating opportunities across many communities in the U.S. where key elements of the project's 45 GE Turbines were constructed, and locally with an estimated 300-400 skilled construction professionals engaged in project construction. The project is also somewhat local for Ferguson, which employs 3,000 associates across Texas.
Both Ferguson and ENGIE are focused on building a sustainable pipeline of skilled trade professionals through investment in training and attracting talent to both traditional trades, as well as the fast-growing needs of the renewable energy sector. Ferguson Cares and ENGIE's local relationships with technical schools and other institutions underpin their support for the development of a skilled future workforce.
Construction is underway at Century Oak, creating 300-400 temporary jobs, while up to six new permanent roles and additional 3rd party specialists will support local operations over the life of the project. The project is expected to be completed by the end of 2023.
"Century Oak reflects our commitment to reducing our environmental impact across our operations and represents a significant milestone for our business," said Denise Vaughn, VP/ Environmental, Social and Governance, Ferguson. "We are delighted to work with ENGIE and Schneider Electric on Century Oak which delivers renewable, reliable and cost-effective energy to the grid."
Dave Carroll, Chief Renewables Officer, ENGIE North America, added, "We are honored that Ferguson chose ENGIE to be part of their energy transition and the role Century Oak will play in their sustainability journey. These are long-term projects that will not only produce renewable power, but provide jobs, tax revenues and economic growth, and we are privileged that the Callahan County community is part of this journey. We have activities in more than 100 counties across the U.S. and Canada – the energy transition is really one that will be powered by communities across the continent."