The Sēnik Duo by PRIZM Lighting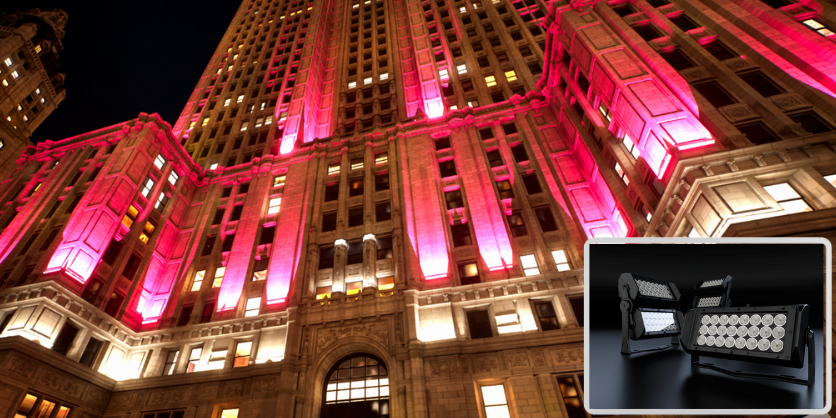 It's easy to celebrate any occasion in color – for example, pink for Barbie® movie festivities or Breast Cancer Awareness month – with the help of PRIZM Lighting's Sēnik Duo, the powerful outdoor Reflekt and Graze Līt façade luminaires that create layers of light in any outdoor architectural setting.
Sēnik Reflekt is designed to act as a floodlight, spotlight, wall washer, wall grazer, and overall powerhouse facade fixture with a huge selection of accessories. The Reflekt has a native optical beam angle of 12° and can be tailored specifically to what is needed by using six attachable lens accessories, including 25°, 35°, 50°, 65°, 35°x15°, and 60°x15° beam angles. Other accessories include a baffled louver, a half glareshield, and several mounting bracket options that enable mounting up to three different fixtures together.
The Reflekt is available in RGBW (3000K standard) as well as Static White (3000K, 4000K, and custom CCTs) versions. The RGBW version has a lumen output of 7255 lumens per fixture, while the static white boasts up to 15044 lumens output per fixture. Mounting up to three fixtures on a single mount expands the lumen output greatly, giving the RGBW over 21,000 lumen output and the static white a massive 45,000 lumens of combined output power.
However, one of most popular features of Reflekt has nothing to do with light output. Reflekt can be ordered with built-in, integrated wireless DMX using LumenRadio's CRMX technology which features an impressive 1,000-meter signal range. Untethered DMX control unlocks huge possibilities for fixture placement when DMX cable would otherwise get in the way.
The Sēnik Graze Līt is a top-tier wall grazing and washing fixture aimed at providing big lumen output in a small form factor. With 1- and 4-foot length fixtures available, the Graze Līt's less than 3-inch width makes it a standout fixture for placement in locations where space is limited and powerful illumination is needed. Like the Reflekt, the Graze Līt is available in RGBW (3000K standard) and Static White (2700K, 3000K, 4000K, and custom CCTs) versions. The RGBW version puts out 552 lumens per foot, giving the 4-foot version a total output of 2,255 lumens, while the Static White version is capable of 1,176 lumens per foot putting the 4-foot version at 5,109 lumens total.
The Graze Līt's small footprint does not limit its versatility. The Sēnik wall grazer comes with mounting brackets that allow 90° of physical rotatability, as well as native 35° or asymmetric 40°x15° optics. Combined with optional symmetric or asymmetric anti-glare visors, the Graze Līt is one of the most adaptable high-end grazers on the market today.