Hunter Fan Co. Debuts Lighting Division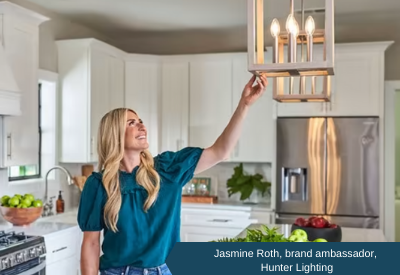 January 18, 2022
Due to COVID-19 concerns (specifically the high transmission rate of the Omicron strain), the Hunter Fan team was not able to make the product splash and lighting division announcement it had planned at Lightovation, which was held January 5-9 at the Dallas Market Center, where Hunter has a permanent showroom.
Hunter Fan already entered the new year with big news, fresh off its acquisition by Griffon Corporation in late December. Not even three weeks later comes another significant announcement of a different sort, the launch of Hunter Lighting™, an initial collection of 300+ SKUs of chandeliers, pendants, flush-mounts, sconces, and vanity lights with more styles expected to debut throughout 2022.
To highlight its lighting launch, Hunter has partnered with home builder and interior designer Jasmine Roth as brand ambassador. Roth is a home renovation and design expert and the host of such popular HGTV shows as "Help! I Wrecked My House" and "Hidden Potential." She is the founder of Built Custom Homes, author of "House Story," and curator of her own online retail store The Shop by Jasmine Roth.
"I'm honored to partner with a brand as iconic and trusted as Hunter Fan Company for the launch of Hunter Lighting and have loved seeing the beautiful designs they are producing," Jasmine Roth exclaimed. "When designing a room, light is one of the most important elements to consider, and Hunter's light fixtures accommodate a variety of styles."
The company's new lighting collection goes beyond ceiling fan and light kit combinations with stand-alone fixtures designed to illuminate any space with hundreds of styling options, including Farmhouse, Mid-Century Modern, and Industrial, among others.
"Expanding into lighting was the clear and strategic next step for the Hunter brand," said John Alexander, CEO of Hunter Fan Company. "In the last 135 years, we have become masters of the ceiling fan and built confidence among consumers who can now trust us with their lighting needs."
Hunter Lighting is positioned as accessible for a range of budgets, with options starting at $79.99. Hunter's goal is to expand the lighting collection to more than 800 SKUs by the end of 2022.