Dallas Market Center Launches Lighting Concierge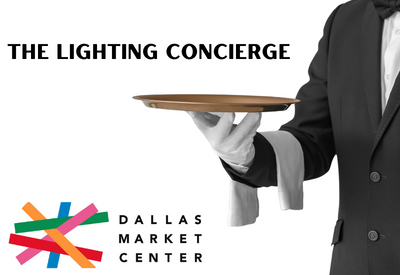 September 12, 2022
The Dallas-area design community has a new resource when it comes to navigating lighting resources: their very own lighting expert. Arturo Maluy, a 20-year lighting industry veteran, is serving as the Dallas Market Center's Lighting Concierge. With knowledge extending from lighting fixtures and fans to lighting control systems and light bulbs, Maluy's role is to bring each customer an understanding of how to integrate lighting successfully into design projects as well as how to source the proper lighting.
Announced on the cusp of Dallas Design Week (September 12-15) at the DMC, the Lighting Concierge offers project planning assistance, a sneak peek at new products, access to lighting showrooms year-round, and insider access to buy lighting directly. The Lighting Concierge service is available during the DMC's business hours and is located in a dedicated space adjacent to registration on the first floor of the Trade Mart.
The growing list of showrooms on the 3rd and 4th floor of the Trade Mart participating in the Lighting Concierge includes: Savoy House, Progress Lighting, Elk Home, Crystorama, Varaluz, Hinkley, Quoizel, DALS Lighting, and Maxim Group Companies which includes Maxim Lighting, ET2 Contemporary Lighting, and Studio M.
"We're proud to be the first marketplace to offer this helpful service available to all designers every day of the week," said Cindy Morris, President & CEO of DMC. "Lighting is a stylish, but often complex, decision. Our lighting exhibitors recognized this and are eager to help. That's why we are launching a service that will enable our Lighting Concierge to be the lighting expert on a designer's team."
Designers are invited to make an appointment or to stop by and meet Arturo Maluy to discuss lighting and design projects while enjoying complimentary coffee or champagne. More information is available here
During Dallas Design Week, the Lighting Concierge is sponsoring the keynote presentation by designer Mat Sanders titled, "The Impact of Lighting in Design." The presentation, moderated by Dallas-based designer Roz Murphy, will take place on Thursday, September 15 at 1pm in the World Trade Center atrium. All designers are invited to enjoy a light lunch at the event and to meet the Lighting Concierge.
The fall edition of Dallas Design Week will feature events and promotions for the design community taking place across more than 1.5 million square feet of design showrooms. Dallas Design Week is taking place at the same time as Total Home & Gift Market, ArchLIGHT Summit (the new commercial and architectural lighting event in the Trade Mart); and two design events at Market Hall: WestEdge Design Fair and Artexpo Dallas.